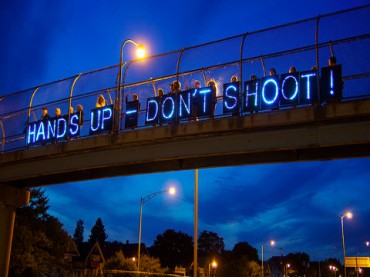 There's been an outpouring of "solidarity" on college campuses across the nation for Michael Brown, even as new data and reports reveal that the initial narrative — that an innocent black teenager was murdered by an angry white cop — is a far cry from reality.
At recent observances at the University of Georgia, UCLA and Yale, for example, students marched in protest or posed for pictures en masse with their hands up and "don't shoot" signs. Some students suggested the recent incident is by no means isolated, and is more indicative of a pattern of violence by white cops against black victims.
The gathering in Georgia, for example, aimed to express "solidarity" with Brown, and discussed other matters such as "issues of inequality," and "unrest over acts of violence committed toward minority groups," The Red and Black student newspaper reports.
At UCLA on Thursday, the call to students declared "Come out with your fellow Bruins and take a stand as a community against police brutality and the extra-judicial killings of young men and women throughout this country. We're tired of turning on the news and scrolling through our Facebook feeds and hearing of another Black or Brown individual being senselessly executed." (Emphasis added.)
On Tuesday, students at Yale held a Michael Brown-themed rally in New Haven, Connecticut. The image under the headline shows signs with the slogans "Hands Up, Don't Shoot" and the more head-scratching "Murder Is Illegal." Aside from the "no, really?" aspect of the latter, it clearly pre-determines the outcome of what happened in Ferguson: Officer Darren Wilson murdered Michael Brown.
Art student Henry Chapman came right out and said as much (emphasis added):
… the violent outbursts of some protesters in Ferguson and the looting didn't make a difference to him – murder is still murder, he said.

"The real issue here is structural racism," he said. "And the real looting is the structural looting of minorities."
Another student, Dolores Colon, believed Wilson would be found innocent — not because he acted justifiably, but because "If you are of color, you get the hammer." She added, "It's a double standard. (People of color) suffer at the hands of people who are there to protect them."
The rallies come even as news reports now indicate Brown was shot from the front, and not killed execution-style from behind as initial reports suggested. What's more, the incident — which has prompted more than a week of riots and unrest in Missouri — has brought renewed scrutiny on crime statistics.
USA Today notes that out of an average of 400 police shootings per year across the US, ninety-six of the victims are black.
Despite the paper's attempt at a gasp-inducing first sentence ("Nearly two times a week in the United States, a white police officer killed a black person during a seven-year period ending in 2012 …") note that this is twenty-four percent of the total. While that's almost double the percentage of the African-American population in the US (13%), it fails to take into account the large disproportionate (violent) crime rate of that population. As such, is that 24 percent actually "out of balance?"
Heather Mac Donald of the Manhattan Institute has written extensively on race and crime, and many of her articles debunk the left-wing conventional wisdom about race "disproportionality" with regards to policing and incarceration.
On Wednesday, in a segment about the media coverage of the Brown shooting and Ferguson protests, Fox News' Bill O'Reilly pointed out that the 400 shootings per year figure is out of an average of approximately 12 million police arrests per year.
Left-wing MSNBC's Chris Hayes, who had taken on O'Reilly a year ago about race and crime stats and gotten some basic facts wrong, made an interesting comment after his correction:
But never fear, white America, because we also overestimated the number of white murder victims killed by black assailants in total. According to data from the FBI, as far as we know, there were only 447 white victims killed by black offenders in 2010. That is in a country of over 200 million white people.
It should be noted that if Hayes' figure is correct, that actually would be roughly half of the yearly average for the previous ten years of 2000-2009. Nevertheless, it would be refreshing if liberals and the media looked at the actual statistics and applied Hayes' "never fear" attitude to situations like that of Michael Brown.
(College Fix editor Jennifer Kabbany contributed to this article.)
Dave Huber is an assistant editor of  The College Fix. You can follow him on Twitter @ColossusRhodey.
Like The College Fix on Facebook / Follow us on Twitter
IMAGE: Light Brigading/Flickr