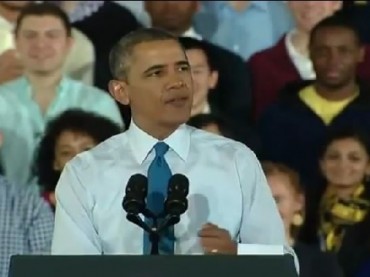 In a speech peppered with themes of class warfare and calls for socioeconomic equality for all, President Barack Obama recently urged a crowd of roughly 1,400 University of Michigan students, faculty and administrators to join him in his quest to pressure Congress to approve a federal minimum wage hike.
"How do we rebuild an economy that creates jobs and opportunities for every American?" the president asked at his speech Wednesday. "I want to focus on something a lot of people in Michigan are working very hard to accomplish right now, and that is raising the minimum wage to help more folks get ahead."
He then outlined the economic struggles the country and the state of Michigan have faced during the economic recession, but suggested the "good news" is that  7.1 million people have signed up for the Affordable Care Act.
"Oh, and by the way, 7.1 million Americans have now signed up for coverage through the Affordable Care Act, otherwise known as Obamacare," Obama said. "That's enough to fill up The Big House 65 times."
The president went on to cite class warfare, saying: "The economy increasingly has folks at the top doing really well, but then middle-class families, people who are struggling to get into the middle class, they're working harder, but their wages, their incomes aren't going up."
"We believe our economy grows best not from the top down, but from the middle out, and from the bottom up," the president added. "And we want to make sure that no matter where you're born, what circumstances, how you started out, what you look like, what your last name is, who you love — it doesn't matter, you can succeed. That's what we believe."
Obama claimed three out of four Americans support raised wages, and that the average age is 35 for minimum-wage earners. Obama told the audience he wants equality for all, including his daughters.
"That means making sure that folks are paid equal for doing equal work," he said. "I do not want my daughters paid less than somebody else's sons for doing the same job. … All across the country, you can work full-time on the minimum wage and still be in poverty."
Obama laid out the proposed bill that would accomplish his goal of so-called fair pay for all. The proposal on the table would increase the federal minimum wage from $7.25 to $10.10 an hour.
"So right now there is a bill before Congress that would boost America's minimum wage to $10.10 an hour. It's easy to remember: 10-10. 10-10," President Obama repeated. "It would lift millions of people out of poverty right away."
Obama didn't hold back any punches for Republicans, using partisan accusations to criticize their recent budget proposal that doesn't include raising the minimum wage.
"Here's the problem. Republicans in Congress – not Republicans out in America…Republicans in Congress don't want to vote to raise it at all," the president said. "In fact, some want to just scrap the minimum wage. One House Republican said, 'It's outlived its usefulness."'
This drew boos from the crowd, as Obama responded, "Don't boo, organize."
Obama continued his critique of the opposing party, exhibiting his rhetorical creativity when, referring to the Republican's budget proposal, said: "If they [Republicans] tried to sell this sandwich at Zingerman's, they'd have to call it the Stinkburger, or the Meanwich."
It was in reference to a stop he made before his speech, when he had lunch at the famous Zingerman's Delicatessen in Ann Arbor, where he ordered a small #2 Reuben sandwich that cost $13.99.
Obama praised Paul Saginaw, one of Zingerman's owners, for paying employees above minimum wage, urging other businesses to follow suit.
"Zingerman's is a business that treats its workers well, and rewards honest work with honest wages — and that's worth celebrating" Obama said.
During his speech, the audience often showed its enthusiastic support through cheers and thunderous applause as Obama explained the necessities of higher wages, with a banner hanging nearby that read "Opportunity for All."
Aside from touting Zingerman's business as a successful model, Obama also cited Henry Ford, whom doubled factory workers' wages 100 years ago.
"Not only did it make employees more loyal to the company [Ford Motor], but it meant that the workers could afford to buy the cars that they were building," he said.
Before concluding, Obama had a strong message for Congress, saying, "You can give America the shaft, or you can give it a raise."
"Now, if they say no, you shouldn't yell at them. Be polite. Ask them why not. Ask them to reconsider. Tell them to join the rest of the country."
College Fix contributor Derek Draplin is a student at the University of Michigan.
Like The College Fix on Facebook / Follow us on Twitter
IMAGE: YouTube screenshot