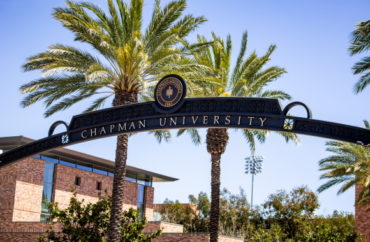 ANALYSIS: Private, Southern California university a microcosm of the deep divide in America today
Chapman University tour guides always point out the abundance of exotic flora and palm trees many associate with Southern California. For some, it is a sight to behold as they tour the well-manicured grounds of the private campus nestled in the heart of Orange County.
The tour guides will also point out a second classic feature of campus—the bronze busts of historical figures that line the walkways. Among the immortalized are America's 40th president, Ronald Reagan, and civil rights hero Dr. Martin Luther King Jr.
They can also marvel at a piece of the Berlin Wall, riddled with cryptic graffiti, a priceless, bonafide piece of history sitting right there in the heart of campus.
But most enrolled students, busy with labs, accounting homework, or film projects, tend to dismiss the sights after a while. The palm trees no longer hypnotize, the historical novelty and fascination of walking by the Berlin Wall or busts of Abraham Lincoln, Adam Smith and Ella Fitzgerald for the umpteenth time wears off.
Enter 2020. Under ordinary circumstances, Chapman might draw headlines for its new engineering school, its first Rhodes Scholar, or its once-a-semester Undie Run. But 2020 has been anything but ordinary.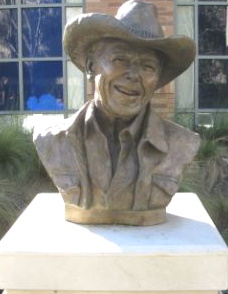 Since 2015, when the Ronald Reagan and Margaret Thatcher busts were vandalized, the very vocal and political in the Chapman community have called for the removal of busts that represent, in their eyes, brute injustice.
The university administration has taken no decisive action for the past five years, though in 2020, the demands from students and faculty alike are getting louder and more heated.
One student in particular, Markos Buhlos, a junior political science major, reignited the demands at Chapman through an online petition published in July.
In it, he lists the busts that ought to be removed by the university because of their thorny nature. The busts in question? Only the most controversial, according to today's standards: the ultra-libertarian author Ayn Rand; the above mentioned President Reagan; former prime minister of the United Kingdom Margaret Thatcher; free-market economist Milton Friedman; and doctor and philanthropist Albert Schweitzer.
Like them or not, the busts that pepper Chapman represent a wide range of historical and artistic figures, from Ella Fitzgerald to Beethoven, John Adams to John Smith, and conservative heroes such as Thatcher and Friedman. It is a towering cast.
After making substantial contributions to the university, Chapman donors and trustees can erect busts to honor figures of their own choosing. The busts, therefore, have nothing to do with the institution's position on political, economic or cultural matters. Rather, they dot the campus as tributes to donor tastes, aspirations and intellectual curiosities.
Many students like Buhlos, however, say they believe the busts aren't simply reflections of the donors and trustees: They believe the busts reflect the entire institution. Buhlos has posed the question for Chapman that the entire nation now faces in the aftermath of this summer's protesting and rioting: How does one treat history, with all its heroes and villains, as modern ethics evolve? How should one judge Schweitzer, who, like all people, was a product of his times, describing Africans as "savages" while doing much good on the continent?
The same question can be asked of Reagan. Speaking with then President Richard Nixon, then-Gov. Reagan expressed his frustration with the African delegates to the United Nations: "To see those, those monkeys from those African countries—damn them, they're still uncomfortable wearing shoes!"
There are no easy answers to these questions—it is difficult to reconcile with past injustice, whether it comes in the form of a policy or a phrase, while considering nuances and contextualizing history. No one can doubt that, and perhaps there will never be the answer, which is probably for the best. But a minority of Chapman students and faculty have demanded immediate action, leaving little room for debate.
Buhlos writes in the petition:
While some believe the removal of busts and statues equates to erasing history and hiding past mistakes, we believe their removal provides opportunity for deeper understanding and engagement in history. We believe the removal provides not only a display of allyship, but also a hopeful opportunity for educating students on the ways these historical figures abused their power to mistreat others.
He continues:
We as Panthers believe in order for Chapman to better serve its students of color (especially Black students), LGBTQ+ students and female students, it is necessary to take a critical look at the busts displayed around campus. We feel it is hypocritical as an institution to express support to your marginalized students yet allow for the continued presence of busts that invoke feelings of exclusion and oppression each day as they walk through campus.
Sweeping demands, to be sure, and Buhlos even goes a step further. Tellingly, he doesn't only want to remove disagreeable busts—he wants replacements. He floats the names of Malcolm X, Harvey Milk, Nelson Mandela and Caesar Chavez, figures equally as flawed—if not more flawed—as the ones first called into question.
For Buhlos and the 700 petitioners, the debate seems decided already. If only that were the case.
In a statement released for the Chapman community, President Daniele Struppa outlined what he believes to be the best course forward. It is one that upholds "a rigorous intellectual community" that will "expose students to ideas, images, art, and history they may dislike or strongly object to."
I am aware of the current petition asking for the removal of several busts on campus. I have carefully read it and I appreciate its emphasis on a shared reflection of who we are as an institution and how our physical campus reflects our collective values. As stated in the petition, many believe the removal of particular busts will provide an opportunity for deeper understanding of and engagement with history while creating a safer environment for students. While I am deeply committed to both of these goals, I strongly believe that the removal of these busts is counter to accomplishing those very objectives.
President Struppa spoke with The College Fix, thoughtfully addressing proposals laid out in the petition. Despite backlash, Struppa remained adamant about his decision, which he describes as "purely intellectual."
"If there is a figure that is controversial, the tendency—if we don't like them—is to say let's get rid of them. But I think a more thoughtful approach is to talk about them. Let's see what we can learn," he said.
Additionally, Struppa offered a simple thought experiment about the nature of humanity's ever-changing standard for ethical behavior.
"It is completely okay for you and I to go to dinner and have a steak. Nobody's going to look at me poorly because I'm having a steak. What about in a hundred years?"
He continued, "Maybe humanity will move in a different direction. We may consider killing animals a terrible thing, and many people already do now, but it's not the prevalent view. But imagine: Would that mean that all of a sudden people have to consider me a monster because I used to eat steaks? That's kind of silly."
The bust debate—far from being settled—isn't the only controversy stirring up an otherwise peaceful Southern California campus.
John Eastman, a Chapman law professor and senior fellow at the conservative Claremont Institute, has come under intense scrutiny after publishing an op-ed in Newsweek on August 12.
The piece, which has been shared among networks associated with Neo-Nazis and Birtherism conspiracy theorists, was an esoteric legal argument calling into question Kamala Harris's eligibility as nominee for vice president of the United States.
Prior to publishing his op-ed, Eastman provided written statements for The College Fix regarding the busts. Although his argument for Harris's eligibility remains a separate matter (his defense of the argument can be read here), Eastman's perspective, ironically, highlights the busts' "amazing range of diversity and inclusion."
"Though not mentioned in the petition, is Martin Luther King, Jr., former Mexican President Benito Juarez, the issuer of the Emancipation Proclamation Abraham Lincoln, Holocaust survivor Elie Wiesel, Jazz great Ella Fitzgerald, and the man most responsible for victory over Nazi Germany in WWII, Winston Churchill," Professor Eastman told The Fix.
He then took his point to its logical conclusion: "It would seem, therefore, that it is not diversity and inclusion that the petitioners actually seek, but an authoritarian uniformity in support of their radical leftist agenda."
Student activists invade Winston Churchill-themed café, scream he 'was a racist'
However, other faculty and administrators at Chapman staunchly disagree. In fact, they have made it their mission to push, by Eastman's contrarian definition, a "radical leftist agenda" in order to change the university's social and intellectual climate.
In response to the Newsweek op-ed, the deans of the Wilkinson College of Arts, Humanities, and Social Sciences, Jennifer Keene and Stephanie Takaragawa, respectively, addressed what they say they believe is the most pressing issue facing Chapman.
"Wilkinson College is moving with determination to ensure that we offer more than lip service to the values of diversity and inclusion as we strive to create an anti-racist campus culture," the deans said, "by celebrating the welcome to campus of our most diverse group of first-year faculty ever, primarily women of color."
"Wilkinson College's Engaging the World: Leading the Conversation on the Significance of Race initiative kicks off in a few weeks, demonstrating our commitment to holding academically rigorous conversations and interrogations about the significance of race in American society in a manner that befits a university interested in serious, intensive academic discussion and dialogue around social justice," the statement read.
In addition, Wilkinson will start Freshman Foundation courses on "Black Feminism, Anti-Racism, Civil Rights in Constitutional History, From Yellow Peril to Yellow Power, and Speculative Fictions of Race and Ethnicity."
On the same day, President Struppa released a statement regarding Eastman's op-ed, after facing pressure from members of the Chapman community. But his position stressed the importance of fostering a campus culture that at once celebrates diversity and supports academic freedom and free speech as the bedrock value for the institution. It does not endorse a campus culture built around the idea of "anti-racism."
"First, the university is not responsible for the ideas of its faculty. As president, I will neither endorse them nor refute them. The strength of a university comes in its commitment to free speech and to academic freedom. We cannot simply pick and choose when to support free speech, despite the personal views of the president, provost, dean or any university administrator," the statement read.
President Struppa concluded, "Equal to my commitment to free speech, is my unwavering commitment to a diverse and inclusive community at Chapman. One that is stronger than the voice or act of an individual. When incidents of division and injustice impact our community, they do not reflect the entire community nor should they be interpreted as to alter what is our concrete commitment to those values."
Come fall, it will be interesting to see how the debates at Chapman University pan out (not that there's a clear end in sight). More fascinating, how all college campuses handle inevitable COVID outbreaks, along with the revolutionary zeal pulsing through the nation — especially among young people. Over the summer, millions protested, statues were toppled, and the air has felt electric. But the urge to bring about rapid change in big institutions isn't felt by everyone who has a stake in the system. Maybe the opposite is true.
In some ways, Chapman is a microcosm of a divided America. There are some who feel it is good and necessary and just to erase long-standing principles — along with a few bronze busts. On the other hand, some feel American life is now an all out war to preserve tradition no matter the costs, to defeat radical agendas with ugly, scorched earth tactics.
Between the two groups, however, there are ordinary people who are busy with jobs, bills, and kids; and there are Chapman students busy with labs, accounting homework, and film projects.
These students will never participate in a dialogue about racism (or anti-racism) in a drab classroom while the sun shines. And most likely they will never enroll in a course entitled "Speculative Fictions of Race and Ethnicity."
They will probably worry less about bronze busts and more about their fake IDs—if they can sneak into a Newport bar, where the bouncers are little more brawny and a little more strict.
"How will we party with COVID restrictions?" they might ask, and it's a good question: How will they party? Why look around a campus like Chapman's and see injustice, when everywhere palm trees sway in the breeze?
IMAGE: David Tonelson / Shutterstock
Like The College Fix on Facebook / Follow us on Twitter