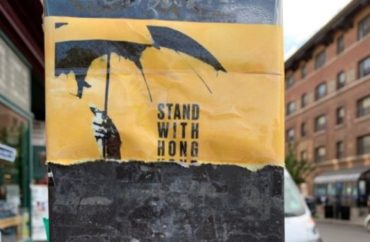 ITHACA, N.Y. — Kinen Kao, a Cornell University student and Hong Kong native, has been unable to return home since China's hostile takeover of his homeland in 2019. So he fights for the cause here in America.
Kao, co-president of the Society for the Promotion of East Asian Liberty, or SPEAL, frequently posts "Free Hong Kong" signage around campus, everything from posters to fluorescent sticky notes spelling out "Stand with Hong Kong, Fight for Freedom."
Since September 2019, he has posted the sticky notes some 80 times along a campus bridge railing at the New York campus, and they've been torn down — every time, he said in a recent interview.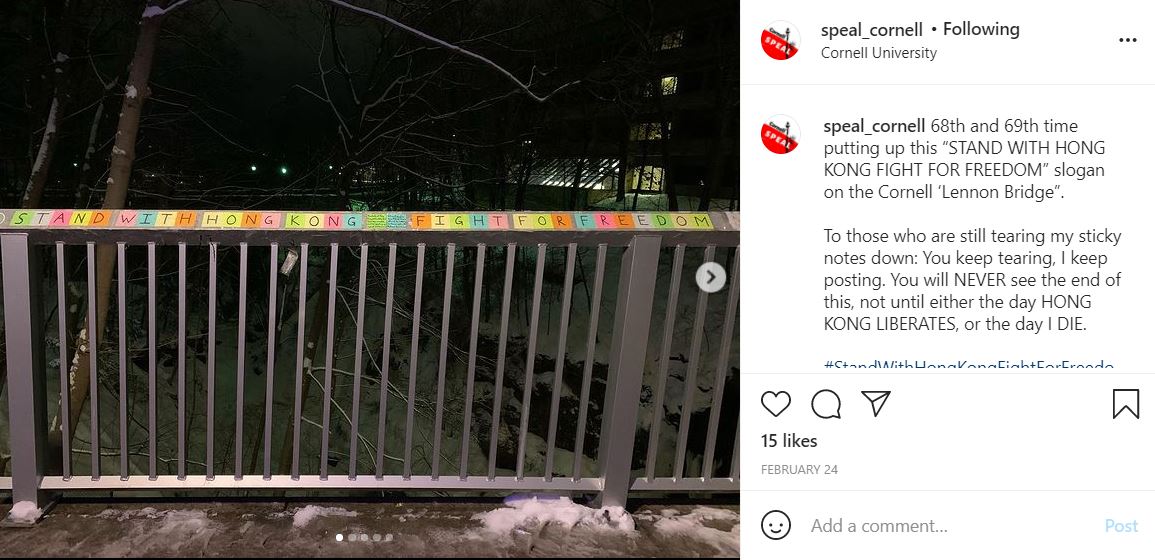 His pro-Hong Kong posters have met similar fates. But Kao has pledged to keep putting up the signage.
"Nothing will stop me from continuing to fight for freedom for Hong Kong, until either the day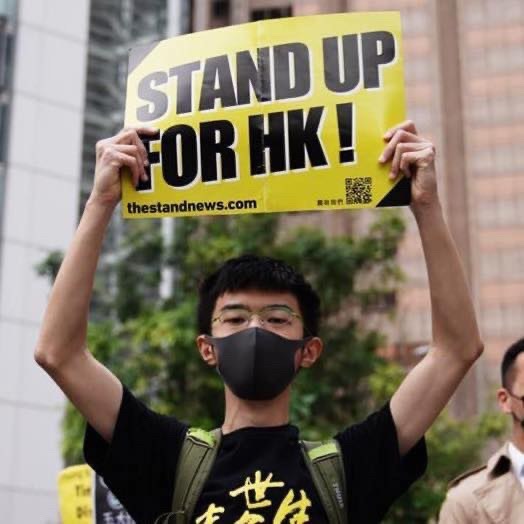 Hong Kong liberates, or the day I die," Kao told The College Fix.
Kao's efforts and the vandalism comes as the Ivy league research institution is considering a dual-degree program with China's Peking University.
(Pictured, Kao; photo credit, Hong Kong Stand News)
And The Wall Street Journal reported recently that Hong Kong "has all but been brought to heel" by China.
"Moving with a scope and speed few [in Hong Kong] anticipated, authorities have used the law to stamp out street protests, ban activists from lobbying foreign governments, gut the city's legislature and arrest most of the opposition," the Feb. 21 article stated.
It added that "Beijing is signaling that this is just the start, outlining more institutional changes to ensure complete control over the city's governance and eject opponents."
Fearing for his safety, Kao said he livestreams himself on Instagram each time he engages in his activism.
Kao and Samuel Kim, co-president of SPEAL, told The College Fix that they are surprised pro-Hong Kong posters have been met with such resistance in America and on campus, and believe Chinese Communist Party loyalists may be among Cornell's community, but there is no proof and no formal investigation has been launched.
Over the last 18 months, the posters and sticky notes have been ripped down, painted over, and even burned, they said.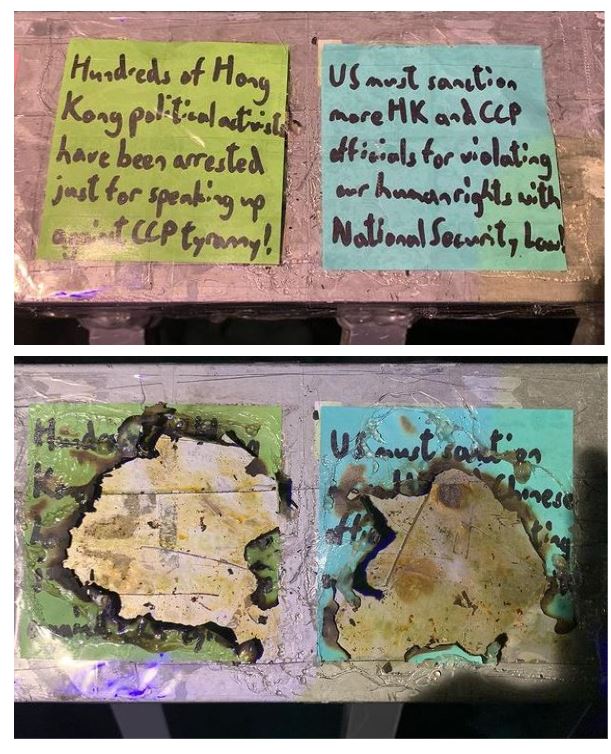 In November 2019, Kao and Kim brought a resolution to the Cornell student government asking it to condemn the vandalism and "acts of silencing freedom of speech." The resolution never made it out of committee.
Kim said that means the resolution was effectively rejected.
"To see that the Free Hong Kong signs have been torn down, or, most recently, burned, is very disheartening," Kim told The College Fix. "At the same time, it gives me the strength and motivation to become more active in raising awareness in the Cornell community about the pro-democracy movement in East Asia."
Kim said he can't say for certain who is tearing down the pro-Hong Kong signage.
"If it is the case that Communist Party-affiliated individuals did tear down these signs, it would fit a pattern of an increasing use of intimidation against pro-democracy activists," he said.
MORE: Cornell student government members expel fellow senators who voted against disarming police
IMAGES: Kinen Kao, SPEAL, Hong Kong Stand News
Like The College Fix on Facebook / Follow us on Twitter