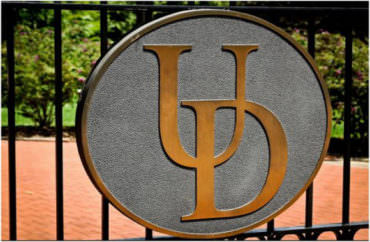 At the University of Delaware, multiple conservative students have said they face extreme bias from professors and peers at the state's flagship campus.
That's what a parade of students told Rob Petree, a local radio news reporter, who attended a meeting of right-of-center students recently and interviewed many of them about the problem.
The report for WDEL includes audio recordings of several students voicing concern and disappointment over the situation, saying their professors are unapologetically liberal and slant classes to promote left-leaning scholarship and debate.
Take freshman Alex Yandziak, who identifies as a "recovering liberal" and told Petree about his experienced in a required English course.
"I walked in and the first thing I saw was 'welcome to power, privilege and oppression' and I was like, 'Is this English 101?' And she (professor) was like, 'Yes, and you have to stay here because it's an obligatory class," Yandziak said.
"The entire class was basically like propaganda, and the first thing we did was all the white kids had to admit they were privileged," the student added. "It was so weird and you could tell she had an obvious political bias, but you weren't even allowed to use the word 'right-wing' in class because that implied they were right, correct. You had to say conservative, and it was very frustrating because I felt like I couldn't even talk in class and express my own views because it was very claustrophobic and there was so much ideology being thrown through the air."
Yandziak credits that professor for pushing him to the right.
"She was the one who really changed my political opinion, and she really started me down the path that maybe this isn't the right kind of ideology if you're forcing people to believe it for their grade," he told Petree.
Petree elicited responses from several students who spoke of liberal bias to the local news reporter. Asked to address the accusations, University of Delaware's Director of External Relations, Andrea Boyle Tippett, told The College Fix that Delaware's largest public university welcomes all views.
She gave a vague critique on the bias toward these students and the support for those who feel threatened in class.
"The University of Delaware promotes an atmosphere of free speech, diversity of thought and open dialogue in our classrooms," she told The Fix. "The alleged behavior described in the article you referenced is not encouraged by the university and any student who feels uncomfortable in class is always welcome to address it with the faculty member, the chair of the respective academic department and/or the dean of students."
"We receive similar comments from students from time to time and provide support to students who lodge them. We have not seen an uptick in such comments recently."
Media Relations Manager Peter Bothum and Vice President of Diversity Carol Henderson did not respond to requests for comment from The College Fix, despite repeated attempts.
As for other students who spoke up, history major Mike Canizaro, a junior, expressed his dissatisfaction with a history course that he took, reportedly perpetuating an understanding that women and minorities held greater influence in shaping American history than white men did.
"A lot of that syllabus and agenda was really pushing on how the white man is at fault, and really in-depth studies on women, which obviously women have made contributions to this country, but a lot of this material was women, women, women, and black people, black people, black people, which is fine and great and I know everyone contributes," Canizaro told WDEL.
And Jonathan Mattner, a junior political science major, told the radio station that professors are not shy about bashing President Donald Trump.
"Numerous professors in the past have said time after time publicly to the whole class that they're hardcore liberals and they've trashed the president and they've talked slander about Republican policies and they just haven't remained impartial," Mattner told WDEL. "I've always spoken up and a lot of the time the whole classroom is predominantly liberal and the professors kind of gang up, and I just don't think that's right. I think that it's important for professors to remain impartial and to push their politics aside."
Meanwhile, "sophomore Kyle Hutra said his participation in much of his classes is limited because it often times ends up resulting in a heated debate where he's attacked by a majority of his classmates who share liberal views," WDEL reported.
MORE: Conservative student club called 'hateful' 
Like The College Fix on Facebook / Follow us on Twitter