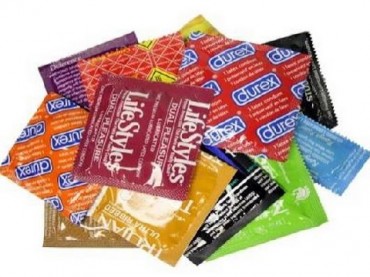 ANALYSIS: 'Sex Out Loud' continues to glorify sex with student fees – but should it?
A giant penis piñata hanging from the ceiling. A closet boasting thousands of condoms. Packets of lubricants peppering desktops.
These were just a few of the items greeting visitors Tuesday to a Sex Out Loud spring semester kick-off party at the University of Wisconsin Madison.
Sex Out Loud is a student organization with an annual budget of nearly $100,000 funded largely through student fees. Its focus is on "promoting healthy sexuality through sex positive education and activism," according to its website, and the peer-to-peer resource group certainly lives up to that pledge.
In the past, it has offered Yoga for Better Sex, an "Advanced Pleasure Workshop," and "Pleasure Boxes" filled with items such as vibrators, anal beads and floggers. It continues to put together similar efforts, and maintains a condom delivery program for students and a graphic sex blog (recent entries include "Lasting Longer and Stronger in Bed" and "The Myth of the Loose Vagina").
The group, which likes to remind students "remember, the wetter the better," is controversial on campus. Everyone has heard about them. Some students think it's a huge waste of money and resources, others think it's vital. Most don't appear to care.
That was evident when an event that promised "an interactive exploration of sexual anatomy and pleasure across the five senses" to a campus of nearly 30,000 college students only managed to attract 30 people.
Tuesday's spring kick off started with a tour of Sex Out Loud's office. Condoms and other sexual health paraphernalia was spread throughout the office, not unlike what one might find at the university health center. However, unlike the university health center, there was that massive male genitalia prop hanging from the ceiling, and sexual messages from personal stories plastered in decorative fliers on the wall.
One such message read: "I might get fired at work today. I had to prioritize. It's not my fault Cockasaurus came over."
The small gathering of about 30 students was hosted by roughly a half-dozen Sex Out Loud workers. The presentation started with an icebreaker in which a notecard with the name of a human body part was placed on individual's backs, and other students described that body part in a guessing game. Raunchy dialogue ensued, talk expected from college students.
The presentation then delved into descriptions of human body parts and sexual pleasure. Surprisingly the tone of the presentation was that of a biology class and not a pornographic film. There were no graphic pictures or sex toys, but instead the presentation was given in very technical and scientific terms.
On Tuesday at least, Sex Out Loud generally steered away from the graphic sexual nature that has made them infamous in the past among some students at UW-Madison.
(Consider when "Sex Nerd Sandra" visited campus last spring. Her presentation was highly graphic, as indicated by one of many pictures of the event posted on Facebook, one of which is shown here.) 
On Tuesday, there were of course some jokes about sex, but they were not unlike what you might hear at any college bar on weekends. Perhaps the most important part of the presentation was when consent was discussed, how to get consent and make sure your partner is not intoxicated.
In the end, the largest issue with the organization may be what's happening outside of Tuesday's presentation.
There were roughly 30 students who had come to the presentation, but there were also several staff members present. When the tour of the office began the ratio of students to staff was almost 3:1. The organization has a $100,000 budget, but on their website they currently only have two events listed for the entire second semester; the kick-off party and a Valentine's Day dinner event on how to make sensually arousing food.
One presenter noted the organization is funded through student fees, and quickly made an off-hand joke about "thanking your grandmother or whoever pays your tuition for all the condoms." Another Sex Out Loud employee opened a closet that contained thousand of condoms, and remarked that companies donate some of them.
This begs the question: Where is all the money going?
With only two events slated so far for this semester, and part of their sexual health products inventory donated, it seems a stretch that Sex Out Loud could be spending $100,000 on the products they give out or the events they are hosting. And whether the university needs to maintain a massive payroll to teach students about sex is also dubious. The college maintains a large health services center as it stands.
The other lingering question is if students should be required to fund an organization that is sexually based. Sex Out Loud's kick-off party was pretty tame for their usual standards, but that doesn't mean Sex Out Loud should be let off the hook for their oft-inappropriate messaging.
College Fix contributor David Hookstead is a student at the University of Wisconsin-Madison. 
Like The College Fix on Facebook / Follow us on Twitter