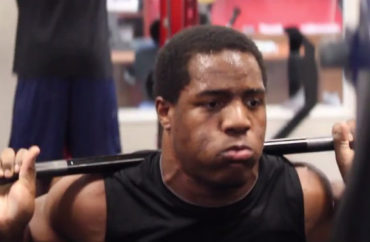 'Non-monetary terms' still being negotiated
A black student athlete suspended by his public university for a rape his white partner denied ever happened is nearing a settlement in his 2016 gender discrimination lawsuit against the school.
A court document filed Friday by attorneys representing Colorado State University–Pueblo and the state attorney general says the school "reached an agreement" with Grant Neal, whose federal lawsuit seeking damages from CSU–Pueblo also named the Department of Education as a defendant — a first in such litigation.
The status update filed in Colorado federal court said the parties agreed "on or about June 9" to "resolve this matter to dismiss all remaining claims" against the university and its officials: "The agreement included monetary and a number of non-economic terms."
A standout sophomore fullback for the football team, Neal was suspended in December 2015 after Jennifer DeLuna, the university's director of diversity and inclusion, concluded he "engaged in non-consensual sexual intercourse" with athletic trainer "Jane Doe," a fellow student.
Neal claimed in the lawsuit that investigators ignored exculpatory evidence such as the trainer's own testimony, which defended the sex as consensual.
"Joint status report" filed by CSU-Pueblo and accused student Grant Neal in in gender discrimination case by The College Fix on Scribd
MORE: Why Grant Neal's lawsuit faces an uphill battle
Neal's accuser wasn't even his sex partner. The university's inquiry into the sex life of the two students stemmed from a report to the athletic training department by Doe's friend, who became convinced a hickey mark left on Doe from a separate encounter with Neal was the result of rape.
The lawsuit alleges the university violated Neal's due-process rights in following legally nonbinding guidance concerning sexual assault investigations from the federal Office for Civil Rights.
The university's suspension, which remains in effect until Doe graduates, resulted in Neal losing his wrestling and football scholarships and limited him from pursuing his athletic career at other universities, the lawsuit says.
CSU–Pueblo asked the court to dismiss the athlete's suit a year ago because Neal failed to "allege any actual nexus between his gender and his purported mistreatment."
In February, Magistrate Judge Craig Shaffer said investigators' decision to not interview witnesses favorable to Neal's story "all suggest bias and inaccuracy in the outcome."
MORE: Judge in 'Mattress Girl' case says Title IX not about sexual behavior
Shaffer recommended Judge Raymond Moore deny CSU–Pueblo's motion to dismiss, prompting an objection from the university in April:
[T]he Magistrate Judge here has accepted Plaintiff's self-serving conjecture, unsupported by a single factual allegation, that CSU-Pueblo administrators were motivated to adopt a discriminatory approach towards male students as a result of pressure from federal authorities …
Colorado State objects to judge's recommendation that lawsuit by student accused of rape can proceed by The College Fix on Scribd
"The University is unable to comment at this time due to ongoing settlement negotiations," Cora Zaletel, executive director for external affairs, told The College Fix in an email Tuesday.
Neal's attorney Andrew Miltenberg declined a Fix request for comment on Neal's case in a phone call Tuesday. The lawyer also reached a settlement with Columbia University on behalf of student Paul Nungesser of "Mattress Girl" notoriety last week.
Friday's court filing says CSU–Pueblo is still in negotiations concerning the "non-monetary" portion of the settlement. The university expects to reach a deal by Friday.
A motion by the State of Colorado to dismiss itself as a defendant is pending, according to the filing.
MORE: Columbia settles with student accused by 'Mattress Girl'
Like The College Fix on Facebook / Follow us on Twitter
IMAGE: RJ MEDIA/YouTube
Like The College Fix on Facebook / Follow us on Twitter