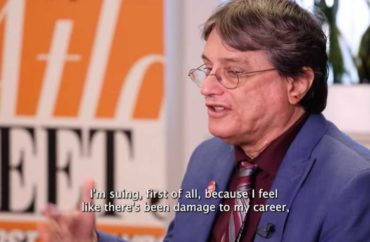 Michael Phillips, a historian at Collin College in Texas, earlier this month became the third professor in his department since 2021 to file a free speech violation lawsuit against his employer with the help of the Foundation for Individual Rights in Education.
Phillips and FIRE allege that the school refused to renew his contract because he criticized its COVID-19 policies on Facebook, instructed his students about negative effects of anti-masking groups during the 1918 pandemic, co-wrote a controversial opinion article and made statements to the media, according to the Dallas Observer.
On March 8, Phillips filed a lawsuit against his employer alleging "free speech violations." Fellow professors Suzanne Jones and Lora Burnett also filed free speech lawsuits with the college this year with FIRE's assistance.
Burnett reached a $70,000 settlement with the college plus attorneys' fees on January 25, according to FIRE. Jones' lawsuit, which also alleges she was penalized for making statements administration did not approve of, is still pending.
Phillips, who has taught at Collin for almost 14 years, said in a statement to ABC News that his campus has "been an atmosphere of terror."
"Faculty are afraid to speak out about anything."
The College Fix sent several emails to Phillips, requesting general comments, asking what policy changes he recommends to provide protection for faculty, and inquiring as to whether he thinks the college might find his COVID views damaging. It has not yet received a response.
In an email to The Texas Tribune, Greg Greubel, an attorney for FIRE, stated "This is the first time FIRE has represented multiple professors against a single college and its president at the same time, and we look forward to proving that Collin College's actions are egregiously unconstitutional in court."
When asked what factor Burnett's settlement may have had on Phillips' decision to be represented by FIRE, Katlyn Patton, an attorney of the organization's, responded in an email to The College Fix that "Collin College forced Dr. Phillips to bring his case based upon their unconstitutional actions."
Phillips had previously posted to Facebook guidelines to faculty from the college that included advice to "remove all details requiring or suggesting face masks/social distancing" from the syllabi.
According to Phillips' lawsuit, Collin College later sent him an "employee discipline form" criticizing his post to Facebook. The suit also mentioned Phillips' complaint that the the college pushed him "for failing to use 'all internal communication channels' to address his concerns." The suit further alleged that Phillips was reprimanded for "insubordination" and "not bringing up his concerns in an appropriate manner."
Even more, the lawsuit alleges that after Phillips co-wrote an op-ed for The Dallas Morning News in favor of the removal of Confederate statues, the college objected to the column, telling him that the letter "violated Collin College policy because it was 'something that made the college look bad' and mentioned his institutional affiliation."
In a statement March 8, Collin College spokeswoman Marisela Cadena-Smith wrote, "The college vehemently disagrees with Dr. Phillips' mischaracterization of this personnel matter as part of the lawsuit he has filed. Dr. Phillips signed a term contract which ends in May 2022. Under that contract, there is no right or reasonable expectation of continued employment beyond the term of the contract."
A 'regime of silence' at Collin College
When The College Fix asked FIRE why it has found more professors to represent at Collin College than at other institutions, Patton responded, "Collin College, under the leadership of President Neil Matkin, has created a regime of silence under which faculty are afraid to express opinions critical of the university or contrary to the opinions held by Matkin himself or members of his administration, and this custom is supported by unconstitutional policies that restrict faculty speech."
Citing their complaint, Patton went on to state that "Professor Phillips' experience with Collin College's policy of muzzling faculty dates back to at least 2017."
She further contended that the "climate and events giving rise to these lawsuits are the result of a longstanding custom at Collin College of infringing on the expressive rights of the faculty."
When asked for comments on the cases of Phillips and Jones, Patton responded that it is "too soon to say how Jones and Phillips's lawsuits will conclude, but we are looking forward to proving our allegations before a jury."
She also noted that FIRE is "very pleased" with the results of Burnett's suit.
"FIRE hopes that all of our cases send a clear message to would-be censors: FIRE is watching and ready to enforce the constitutional rights of professors and students across the country," she said.
MORE: Portland State University put 'gag order' on professor's video exposing academic censorship
IMAGE: FIRE / YouTube
Like The College Fix on Facebook / Follow us on Twitter