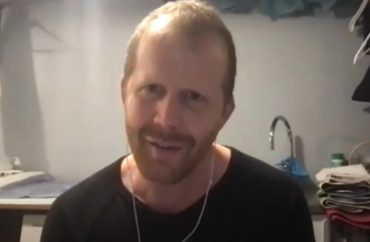 Wrote a book called 'How to Blow Up a Pipeline,' praises Black Lives Matter violence
A Swedish professor recently joined a New Yorker podcast with David Remnick to explain why he thinks climate activists need to embrace "sabotage" to achieve their goals.
"I am recommending that the movement continues with mass action, civil disobedience, but also opens up for property destruction," Andreas Malm (right), an ecology lecturer at Lund University, said on the podcast. While he still supports strikes and occupations, "so little has changed, and so many investments are still being poured into new fossil fuel projects."
"So I am in favor of destroying machines, property, not harming people," Malm continued, "that's very important distinction there, and I think property can be destroyed in all manners of ways or it can be neutralized in a very gentle fashion, as when we [deflated SUVs in 2007] or in a more spectacular fashion as in potentially blowing up a pipeline that's under construction."
Malm, who wrote a book called "How to Blow Up a Pipeline" advocates for what he calls "intelligent sabotage."
He gave the example of a French company, Total, that is constructing a "heated oil pipeline" in Uganda and Tanzania.
"If people in that region were to attack the construction equipment, blow up the pipeline before it is completed, I would be all in favor of that. I don't see how that property damage could be considered morally illegitimate," Malm said.
He would not answer if he plans to engage in eco-terrorism himself.
"If I were planning things, I wouldn't tell you or anyone else," Malm told Remnick. But he said he is "prepared" to engage in planned sabotage activities.
The interview also includes Malm praising other people who have committed sabotage, though he criticized the kidnappings of oil workers, by, according to the interviewer, "activists."
The pair discussed one example from the early 2000s in Nigeria. While it was not clear what specific story they were discussing, one example from the Irish Times in 2007 appears to match what happened.
"Abductions for ransom are frequent in the oil producing delta..[the] incident raises to at least five the number of foreigners being held captive by various armed groups," the Irish Times reported in 2007. "Violence escalated in the impoverished Niger Delta early last year when armed rebels demanding control over oil revenues and an end to neglect by corrupt politicians started blowing up pipelines and oilfields."
"Property damage is technically feasible," Malm said. He also praised hackers who brought down the Colonial Pipeline in the United States.
"I have nothing against the tactics employed by [nonviolent climate groups]," Malm said, but his problem is when people refuse to "escalate" beyond nonviolence. This "dogmatic commitment" is "faulty" the ecology instructor said.
"Most social movements that have struggled against overwhelming odds…have used a number of different tactics, ranging into property destruction and confrontation with police," Malm said.
He said that the property destruction of Black Lives Matter protests after the death of George Floyd was "integral" to their movement.
Malm also dismissed concerns that the violence from some BLM protests harmed the movement.
He said the storming of a Minneapolis police station "was a catalyst for the movement."
MORE: University offers 'How to Overthrow the State' course
IMAGE: Anti Capitalist Resistance/YouTube
Like The College Fix on Facebook / Follow us on Twitter