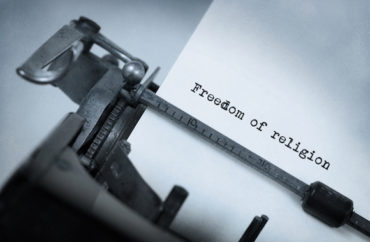 'Something needs to change about the culture on campus'
Members of the Augustana College Republicans reported receiving harassment in the wake of a pro-life chalking incident at the Lutheran school in South Dakota.
They chalked pro-life messages on sidewalks on campus, including "Abortion stops a beating heart" and "Pro-woman = Pro-Life" last month.
The messages included pro-life Bible verses from Jeremiah 1:5 and Psalm 139, as well.
A group of pro-abortion students washed away the chalk with buckets of water shortly afterward, with "multiple witnesses" identifying Augustana Democrats leaders and their branded cups, Lifesite News reported.
This proved dangerous during the cold weather, and Campus Safety officers rushed out to spread salt, according to Lifesite News. They weren't fast enough to thaw the vandals' ice, which reportedly caused several slips-and-falls.
Several members of the Augustana Republicans told The College Fix in emails about character attacks and harassment they've received since the incident.
"We've been called un-Christian (Augustana is a Christian campus) for being pro-life and for being supposed 'racists,'" said Corey Albrecht, the president of the club. "One person commented on our Facebook post, 'Racism is not a Christian value.'"
Albrecht pointed to a link on his personal Facebook page where the group received this accusation on a post he had made concerning the chalking incident.
He continued that a member of the Augustana Democrats "intensely ridiculed some female pro-life students for being a disgrace to women, to the point of making them cry."
Their partisan opponents are trying to portray their harassment as a response to aggression by the student Republicans, according to Albrecht.
"An officer of the Augustana Democrats is telling people that conservatives have started a war and that they're ready to fight," he added. "In relation to that, students have said they feared the Augustana Republicans are planning a 'violent backlash' on campus in response to the midterm elections."
The Fix reached out to the individual and the club for comment, but neither had responded by publication time. The story will be updated if they respond.
Katelyn Stevens, a member of the club, told The Fix the "general sentiment" toward the club is "downright malicious":
If it is found out which party you affiliate with, people avoid you, they spread rumors about you, and sometimes they will target you with discussion arguments in class.
Stevens said she witnessed student discussions accusing Albrecht, the group's president, of looking "sinister" while handing out flyers, and another student who claimed the school's administration "had to do something" about the club.
"I told them I was an Augustana Republican and that it is harmful to the campus climate to be spreading rumors that cause unnecessary fear and dissention against students who are innocent of their claims," she wrote in an email to The Fix.
When her fellow students find out her politics, they often accuse her of being homophobic, bigoted, or a traitor to her gender.
"I tell them my faith and personal experiences have set my beliefs and they cannot fully understand why I am that way so they should open their minds to those of a different background," Stevens continued.
"They get rather angry when I say that, but it is nice to turn their narrative on them."
Sidney Powers told The Fix most of the personal attacks focused on "my pro-life values":
One student made claims that I had no backbone, wasn't willing to discuss my views, and told me that I shouldn't post something controversial if I didn't want to be attacked. Other attacks said that I didn't care about women in crisis pregnancies and that I didn't care about children born into poverty or foster care.
She said she experienced these character attacks over Facebook, Twitter and Snapchat.
Josephine Kassube said she does not respond to harassing Facebook comments, but that she could not ignore Snapchat messages that were sent to her.
"On a positive note, multiple pro-life students reached out for the first time to learn more about Life Runners and Augustana Republicans," she wrote in an email to The Fix.
She also said that several students on campus disagreed with the content of the messages, but "supported our free speech regardless of the pro-life sentiment."
The Augustana Democrats did not respond to multiple email requests or a Facebook message asking for comment. The Augustana Mirror reported that Hunter Lipinski, president of the club, said that some of the students involved in washing the chalk away may have been associated with the group.
"However, this had nothing to do with the organization," he told The Mirror.
Lipinski also did not respond to an email request for comment.
Augustana University did not respond to requests for comment, including whether the students who washed away the chalk will face disciplinary action from the school. It has not said whether it's reviewing surveillance footage to identify the vandals.
"Something needs to change about the culture on campus, and how we are being treated because it is downright disappointing," Stevens told The Fix.
MORE: Black pro-life leader considers 'legal action' against university
IMAGE: MyImages – Micha / Shutterstock.com
Like The College Fix on Facebook / Follow us on Twitter