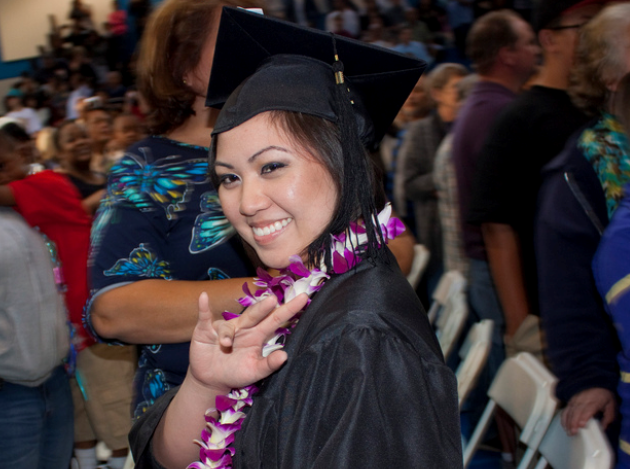 As Caitlin Pierce lined up in the hall with her fellow graduates, waiting for the processional music to start at her high school graduation, students around her began to discuss college. That's when Caitlin told them she was set to graduate from college the following week.
"There were exclamations of astonishment," Pierce said. "They wanted to know how on earth I had accomplished that."
Pierce, an 18-year-old homeschooled Arkansas teen, received her bachelor's degree in liberal studies on May 25 – the week after her high school graduation. For Pierce, her undergraduate journey lasted just one year and 11 months, and ran parallel to her junior and senior years of high school.
She attributes her accomplishment to CollegePlus, a Texas-based distance learning company offering personalized higher education options. The model utilizes credit-bearing exams like the College Level Examination Program and DSST (DANTES Subject Standardized Tests), allowing students to receive college credit for independent study.
While CollegePlus also caters to working adult learners, many students are high schoolers who opt to combine their high school and college studies, its administrators told The College Fix.
CollegePlus was launched in 2005, and since then nearly 6,000 students have enrolled in the program. Nearly 2,000 are enrolled currently, both nationally and internationally, with an average start-to-finish time of two years, according to company officials, who estimate the total degree cost to students at $15,000.
Pierce said the program essentially enabled her to get started on life right after high school.
"Now I am able to focus on what I really love," Pierce told The College Fix. "I am able to start building up my own photography business, which has been my dream for several years now. With school out of the way, my boyfriend and I can look at getting married sooner than my friends who are getting their degrees in traditional ways."
She added she is relieved not to be strapped with a mountain of college loan debt. As for the notion that Pierce is some whiz kid, she said that's not true.
"Some people might feel that they have to be really smart to get a degree and do high school at the same time. I'm here to prove that's not true," Pierce said. "I still avoid math problems whenever necessary."
CollegePlus pairs its students with a coach who guides them through the entire degree by means of regular phone sessions and online support.
The process begins with a life purpose discovery program, helping students identify core strengths, goals, and a college major. CollegePlus offers more than three dozen majors, including journalism, mathematics, marketing, criminal justice, religion, economics, biology and accounting.
Following training to improve reading speed, memory techniques, and critical thinking, students meet with a degree consultant who designs a custom plan for their chosen major, taking their best learning style and local learning opportunities into consideration. CollegePlus emphasizes hands-on learning, encouraging students to take advantage of internships and become active in community service.
"At first I wasn't sure about adding so much to my school load," Pierce said. "I may have put in a few more school hours each day than my high school counterparts, but the time I gained can be dedicated to other things, like spending more time with those I love, serving God and people."
Utilizing a combination of in-house leadership and worldview courses, credit-bearing college exams, and flexible online classes, students move through the degree plan at their chosen pace, while coaches provide academic guidance, strategy, accountability and moral support.
After completing the prerequisite coursework, students enroll in one of five partner colleges, often either Liberty University Online or Thomas Edison State College in New Jersey, known as one of the nation's most distance-friendly schools.
Thomas Edison is regionally accredited, the highest level of accreditation in the nation, and boasts friendly transfer policies for adult learners with a smorgasbord of previous credits. After meeting the final degree requirements through online classes, students can apply for graduation without ever having to set foot on campus.
"My personal frustration with a system that prioritized seat time over real competency and skill led me to (this)," CollegePlus President Brad Voeller, who launched the company, told The College Fix.
He said higher education today is conflicted with the increasing demands of numerous stakeholders, and the core mission of teaching and mentoring students suffers as a result. What's more, he said, traditional diplomas are expensive.
"CollegePlus is uniquely positioned to provide a completely student-centric approach that customizes higher ed around the individual life purpose of each student," he said. "The student's learning is not confined to the offerings of a single campus. This approach results in increased student motivation, depth of learning and career preparation."
One of the more recent partnerships CollegePlus has forged is with the organization WallBuilders, whose founder David Barton said in a statement that "America's Founding Fathers accomplished remarkable feats at very young ages because they had a strong work ethic and expectations that caused them to finish college at a young age and get busy with their purpose in life."
"CollegePlus is giving a new generation the opportunity to follow in the footsteps of our founders," Barton said. "I highly recommend CollegePlus as a way to save your family thousands of education dollars as well as years of your students' lives, and get them positively influencing the culture sooner rather than later."
Fix contributor Sarah Greek studies at Thomas Edison State College. She is a former CollegePlus coach.
CLICK HERE to Like The College Fix on Facebook / Follow us on TWITTER: @CollegeFix
IMAGE: Allan Chatto/Flickr