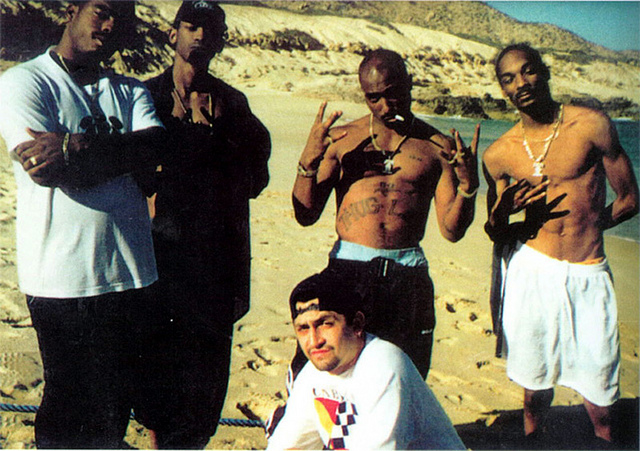 Hip hop music and all it represents is no longer just a music genre, it's morphed into serious academic fodder at a growing number of universities – this despite its frequent glorification of violence, drugs and a gangster lifestyle, and its tendency to degrade women by calling them bitches and ho's.
But its roots in civil unrest, its effect on America's youth and its black culture, and its ties to Africana and Latin studies have trumped its unsavory characteristics; at least as far as higher education scholars are concerned.
Professors and academics are quick to defend the academic legitimacy behind this area of study, promising it's not all fun and games in these courses, students are not just watching rap videos and coming up with some funky fresh lyrics.
But music videos, rapping, and a focus on how hip hop has changed American society are certainly core elements of the studies at universities that host such endeavors, which highlight the genre as a key in America's cultural evolution over the last several decades.
Take, for example, news from Cornell University last summer that DJ Afrika Bambaataa, one of the genre's founders, landed a three-year visiting scholar gig.
During one of his talks, the music legend spoke of his gangster warlord past in the Bronx, and how he eventually came to found the Universal Zulu Nation, which he said is about "overcoming the negative to the positive," according to the Cornell Chronicle.
At Florida State University, a three-credit course called "Sociology of Hip Hop" launched this semester. Students signed up for the course in droves, and there's a lengthy waiting list, according to a feature on the class in the Tallahassee Democrat newspaper, which pointed out Harvard and Duke recently began offering hip hop courses as well.
"Being passionate about hip hop, I believe it's a culture that deserves serious academic study," co-teacher Andrew Mannheimer, who himself is a Christian rapper, told the newspaper. "If we're going to examine society I think it's important for us to be up to date."
Mannheimer sometimes raps for students, and guest rappers/speakers also visit the classroom. But it's impossible to study hip-hop without delving at times into its tendency to voice anger and frustration at law enforcement in lyrics.
During one recent FSU hip hop class, for example, a documentary shown "featured interviews with then-Vice President Dan Quayle reacting to Ice T's infamous song, 'Cop Killer,' as well as the musician-turned-actor's response to Quayle," the Democrat reported.
Over at the University of Arizona, the school has taken things one step further, announcing in January that students pursuing Africana studies at can now minor in hip hop.
Hip hop has pervaded American culture and has had great influence on that culture, according to the university's Dr. Alain-Philippe Durand, noting the subject "warrants serious academic inquiry."
Students will study the impact of hip hop on disciplines ranging from religion to gender to film, and investigate its cultural influence on topics such as hairstyles, street language, and sexuality, online university comments on the subject state.
"Besides its commercial clout, hip hop's role in challenging stereotypes, destabilizing and unsettling the meaning of blackness and bridging cultural divides in the USA, merits a place in serious academic discussions of how contemporary society functions," they state.
Classes for the minor include such titles as "Rap, Culture, and God" and "Pan African Dance Aesthetics." Various music videos are slated to be shown in several classes.
Durand notes a minor in hip hop will show future employers that a student is a "well-rounded human being" who is able to work well "in unfamiliar environments" and "communicate effectively with people from diverse communities and cultural backgrounds."
And while many in academia seem to embrace hip hop, and certainly there are some positive aspects to it, not everyone's convinced hip hop should be glamorized and glorified.
"Many writers and thinkers see a kind of informed political engagement, even a revolutionary potential, in rap and hip-hop. They couldn't be more wrong," notes John McWhorter in a City Journal piece. "By reinforcing the stereotypes that long hindered blacks, and by teaching young blacks that a thuggish adversarial stance is the properly 'authentic' response to a presumptively racist society, rap retards black success."
McWhorter, a contributing editor to the City Journal, writes and comments extensively on race, ethnicity and cultural issues for the Manhattan Institute. His Book, All About the Beat: Why Hip Hop Can't Save Black America, "pointed beyond the empty gestures of the 'hip-hop revolution' to a brave new politics for Black America, calling for a renewed sense of purpose and pride in black communities," according to the think tank's website.
Underscoring that, feminists have long bemoaned hip hop and rap as insulting and degrading to women, with "bitches and hoes" lyrics that permeate the genre.
A 2011 article on The Root cites several cringe-worthy examples of how hip hop and feminism don't mix.
"In 1992 Dr. Dre released his single "Bitches Ain't Sh–," complete with a chorus that emphatically reduces women to nothing but "hoes and tricks." In 1996 Akinyele famously sang "Put It In Your Mouth," a song that flooded radio airwaves and clubs across the country. Fast-forward to 2003, and Nelly releases a video for his single "Tip Drill," in which he famously slides a credit card between the cheeks of a video vixen's bottom…  Critics position misogyny as hip-hop's cardinal sin. … which raises the obvious question: How do women actively participate in a culture that seems to hate them so vehemently?"
That, and a lot of other questions, remain as the rise of hip hop emerges on campus.
Fix contributor Nicole Swinford is a student at Chapman University.
IMAGE: Andre Lucian/Flickr
CLICK HERE to Like The College Fix on Facebook.