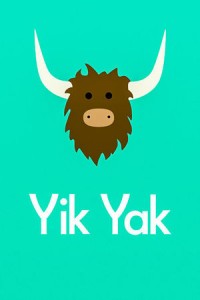 A senior journalism major at Ohio University isn't too keen on freedom of expression, because she calls for the school to "ban" anonymous messaging apps Yik Yak and Unseen (which is photo-centric) on the campus Wi-Fi – and calls that "a good start."
Jessica Ensley essentially adopts the zero-sum approach to free speech, writing in The Post that these apps are "a breeding ground for misogyny, racism and bullying."
Arguing that boorish behavior on these apps takes away others' voices, Ensley highlights in particular the antipathy toward student senate president Megan Marzec for her infamous "blood bucket challenge" against Israel:
The university did not publicly support Student Senate President Megan Marzec when she was receiving rape and death threats. They did not publicly support the students who marched against rape culture or racism and they did not support the students who traveled to Ferguson to participate in the marches there to end police brutality.

Specific individuals on this campus have their names and faces posted on Yik Yak and Unseen. Students choose to target Marzec, residential assistants, professors and other students and bully them on a platform that anyone can access. Most of them are females, not surprisingly.
Ensley takes issue with President Roderick McDavis saying the school does "not support an environment in which students — and even some faculty and staff — feel uncomfortable expressing their ideas and viewpoints":
Yet the university is supporting an environment like that by ignoring what is happening. Some comments from these apps include "keep calm and keep raping" and "maybe rape wouldn't be such an issue if you sluts would have a little f–king modesty on Halloween" on Unseen, and "The best way to end racism is to just stop talking about it" and "Black people are racist" on Yik Yak. A professor on campus is being targeted as well. "Fuck you (name retracted). Your class is retarded and you are a c–t." Several more posts have shown up targeting them with even worse language.

"As members of a University family, we will not always agree, but we should respect one another," McDavis wrote in the same email. But in actuality, it seems we do not respect one another. Women walking around campus often have their pictures taken unknowingly with posts saying "amazing tits."
It's hard to see how a ban would stop any of this behavior – Yik Yak and Unseen offer nothing that students can't already do on the Internet, except for centralize their posts by location.
Ensley is far from the first person to call for Yik Yak's campus ban – a Huffington Post writer took a similar zero-sum approach in a column last month:
What I am saying is that there's valuable discussion and there's harmful discussion, and that no amount of one kind can ever really eradicate the other. That's why I think that college administrations should permanently ban Yik Yak and any other forum that allows people to post comments anonymously.
Like The College Fix on Facebook / Follow us on Twitter
IMAGE: Yik Yak
Like The College Fix on Facebook / Follow us on Twitter