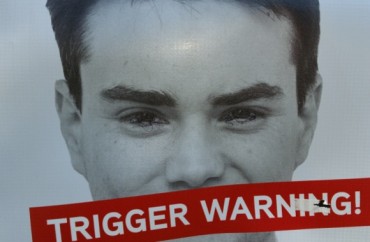 A large poster at the University of Michigan advertising an April 7 "Truth is a Microaggression" lecture to be given by conservative commentator Ben Shapiro was recently defaced by a student.
The word "Truth" was crossed out and written beneath it was the word "disrespect." Shapiro's likeness also had its eyes sloppily crossed out.
Shapiro is known for his blunt talk toward college students who seek so-called safe spaces and demand trigger warnings, and his presence at Cal State Los Angeles last month nearly prompted a riot as student protesters aggressively blocked guests from entering the campus theater where the pundit gave a lecture titled "When Diversity Becomes a Problem."
At the University of Michigan, The College Fix interviewed a student who witnessed the March 18 vandalism. The student, who asked to remain anonymous, also relayed a conversation he had with the vandal after the defacement occurred.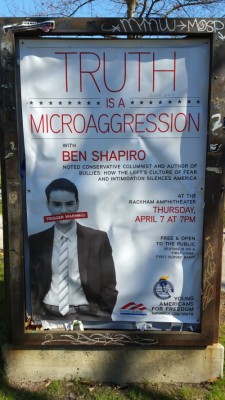 Asked why he marred the poster, the vandal replied he was "just having a conversation with this guy [Shapiro's likeness]."
When asked if he felt his blatant disrespect of the poster, even as he thinks Shapiro's exercising his First Amendment right to free speech is disrespectful, was at all hypocritical, he repeated that he was "just having a conversation with this guy." He added, "This is my conversation with him because he's in a position of power."
When pressed with the fact that he was defacing the property of the Young Americans for Freedom, who purchased and placed several of these large posters around campus, he simply reiterated: "Well, this is just my conversation with him."
Before the two students parted ways, the offender was asked if he would be attending the event so he could confront Shapiro in person. "I am going!" was the reply.
The vandalism marks the third time in roughly the span of a year that Young Americans for Freedom's University of Michigan chapter has had its event advertising either stolen or defaced.
Last week, an unknown student ripped off several smaller posters for the "Why we are [politically] conservative: A conversation with leaders from the Jewish community" panel discussion. In February 2015, a large banner advertising an appearance by conservative National Review editor Jonah Goldberg was stolen.
RELATED: Flyers touting conservative-Jewish event ripped down at UMich
RELATED: Public university demanded conservative students pay $621 in security fees for Ben Shapiro talk
Like The College Fix on Facebook / Follow us on Twitter
IMAGES: For The College Fix