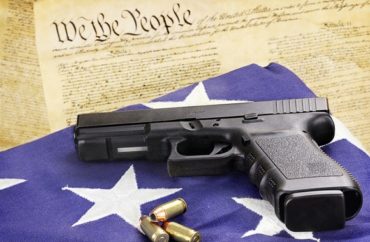 OPINION: 'It is grossly immoral to leave people at the mercy of violent offenders'
Evidence indicates that concealed carriers are among the safest and most law-abiding people in the nation, committing crimes at an even lower rate than police officers. Meanwhile, the threat of violence against defenseless students, many of whom are being denied the right to carry, is all too real.
In New York City, Columbia University student Davide Giri was killed near his campus in a stabbing attack earlier this month. The Manhattan borough president noted that this happened just blocks away from where another college student, Tessa Majors, was robbed and stabbed to death in 2019.
Giri's murder came only weeks after another high-profile student killing. University of Chicago student Dennis Zheng was robbed and murdered on November 9, an attack that also took place near campus. Zheng's death prompted protests, as hundreds of Chicago students gathered "to demand further safety measures from the university."
In view of these violent attacks, it is alarming that the Montana University Board of Regents is trying to stop students from carrying firearms on public university campuses by blocking implementation of a state law that would allow it. Montana's education officials are showing their lack of care for student safety, as well as a disregard for students' constitutionally protected natural rights.
There are few things more offensive than posting a sign declaring some area to be a "gun-free zone." When governments systematically disarm peaceable people, and announce this fact to the world, they're doing nothing more than painting a target on innocent people and telling criminals where to strike.
It is grossly immoral to leave people at the mercy of violent offenders, and still worse to broadcast this as if it were some sort of virtue. Thankfully, Montana legislators agree.
That's why they passed HB 102 earlier this year, explicitly stating that the university system's Board of Regents was "prohibited from enforcing . . . any rule or regulation that diminishes or restricts the rights of the people to keep or bear arms as reserved to them in Article II of the Montana constitution."
The legislature also cited the Supreme Court's famous Heller and McDonald decisions—which upheld the protection of individual firearm rights and made it clear that neither the federal government nor the states may infringe upon these rights.
The legislature's citations to Heller and McDonald are crucial, because the Board of Regents wants to treat this controversy as a matter of mere procedure within Montana's state constitution—when the real issue is the people's natural right of self-defense.
Montana's state Constitution grants the Board of Regents "full power, responsibility, and authority to supervise, coordinate, manage and control the Montana university system." After HB 102 passed, the board sued the State of Montana, claiming that the legislature had infringed on the board's authority by broadly permitting firearms—which the board still wants to restrict.
Unfortunately, a Montana court agreed with the Board of Regents and granted them summary judgment on November 30. According to the judge, the "sole issue" in the proceeding was a narrow question of law under Montana's Constitution—namely, "whether the Legislature or the Executive branch, via the [Board of Regents], has the exclusive constitutional authority to regulate firearms on [Montana University System] campuses and other locations."
But that cannot possibly be the "sole issue." Much more fundamentally, this case involves the people's inherent self-defense rights—protected by the U.S. Constitution, vindicated by the Supreme Court, and applicable against both the federal and state governments.
While Montana's HB 102 was more explicit regarding the people's rights under the Montana Constitution, the legislature also made it sufficiently clear that it was acting to secure those natural rights protected by both the federal and state constitutions. If anything it is the "sole issue" here, it is the issue of the individual right (in the words of the Heller court) "to possess and carry weapons in case of confrontation."
Thankfully, this case is far from over, with an appeal to the Montana Supreme Court in progress.
The Montana legislature had it right when it determined that without respect for self-defense rights, other safety measures will fall short.
"Zones where guns are prohibited provide an increased risk to the health and safety of citizens," the lawmakers stated in the bill, "because these zones create an unreasonable expectation of government-provided safety, while that safety cannot be provided or ensured."
Montana's lawmakers are taking student safety seriously. It's a shame the state's education bureaucrats are not.
Cody Wisniewski (@TheWizardofLawz) is the director of Mountain States Legal Foundation's Center to Keep and Bear Arms. He primarily focuses on Second Amendment issues but is happy so long as he is reminding the government of its enumerated powers and constitutional restrictions.
MORE: No, the Second Amendment wasn't about racism
IMAGE: Stephanie Frey / Shutterstock
Like The College Fix on Facebook / Follow us on Twitter