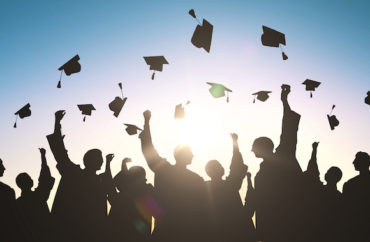 'He's got a really interesting story to tell,' said one professor
Pitzer College granted a degree to a currently incarcerated felon and had him speak at the commencement ceremony from prison.
Yusuf Pierce was sentenced to 19 years and four months for robbing a Baskin-Robbins and leading police on a high speed chase while already on probation in 2010.
In May, Pierce remotely addressed the graduating class of Pitzer, an elite liberal arts college in Claremont, California, with tuition of about $70,000-a year.
"We don't label the student speaker as a valedictorian. But it happens that Yusef has a 4.0, and he's got a really interesting story to tell," Pitzer Professor of Politics Nigel Boyle said to NPR.
In the telling of that story, Pierce read from a long letter that he identified as written by his mother shortly after his prison sentence began.
The letter gave life and diet advice, quoted Bible verses, and apparently reproduced the entirety of the William Ernest Henley's poem "Invictus," which Pierce said "is Latin for undefeated."
The crime and the punishment
Pierce was originally charged with four counts of second degree robbery, kidnaping, false imprisonment, being a felon in possession of a firearm and ammunition, evasion of the police while operating a vehicle, hit and run, and resisting arrest, according to court documents.
The probation officer's report said:
[A]t 10:33 p.m. on July 27, 2010, Baskin Robbins employee J. Harris was taking out the trash when appellant placed a gun at his back and forced Harris into the store.

Pointing his gun, appellant ordered Harris and three other employees into the freezer.

Appellant pointed his gun at Harris and asked where the safe was located. One of the employees pointed to the safe and appellant took several bags of cash.

The employees called the police who located appellant.

When an officer attempted to stop appellant, appellant tried to escape leading to a high speed chase. Appellant reached speeds of up to 100 miles per hour through the cities of Clovis and Fresno. Appellant also ran stop signs. Appellant crashed into a light pole.

Officers retrieved $1,484.13 in cash from appellant's vehicle.
Two enhancements were added to his charges related to the use of a firearm as a felon in a crime and violating his probation.
The sentence of 19 years and four months was bargained down from the prosecutor's initial offer of 22 years, according to court documents.
How Yusuf Pierce went to college
Prisoners who take college courses in California can generally use that fact to help lessen their sentences, but there is the problem of paying for that education.
Congress passed and then-President Bill Clinton signed the Violent Crime Control and Law Enforcement Act of 1994, making it illegal for prisoners to receive Pell grants, which students typically use to pay for higher education.
"If prison exists to punish individuals for harm they've brought against another person or society at large, programs that target self-improvement seem like a waste of money," wrote Anthony Hennen, a scholar with the James G. Martin Center for Academic Renewal in a column for the Washington Examiner explaining the rationale behind the federal funding ban.
In this case, it wasn't taxpayer money that was, allegedly, wasted.
The bachelor of arts degree was granted through Pitzer's "Inside-out" Bachelor's Degree Program for criminals, according to the college's website.
The program is funded in part by a $1.1 million dollar grant from the Andrew W. Mellon Foundation. This grant helps fund professors to go inside the prison to teach criminals who are not charged college tuition. It also facilitates broader interaction with current non-criminal college students.
"The Claremont JEI model consists of an equal number of inside and outside students in each course…The only difference is that the classes are held inside a prison (via online video-conferencing during COVID)," the college website says.
According to one of his professors, to earn his degree, Pierce's work included writing poetry and painting. His spring courses included a class on "feminism for men" and "mass incarceration," according to NPR.
During his time in prison for armed robbery, Pierce, who is African-American, was also able to hold a virtual art exhibit at Pitzer, with work focused on "the enduring struggle for black liberation" and the "freedom fighters that…are not widely known."
MORE: Georgetown announces new college degree program with a maximum-security prison
IMAGE: Syda Productions / Shutterstock.com
Like The College Fix on Facebook / Follow us on Twitter