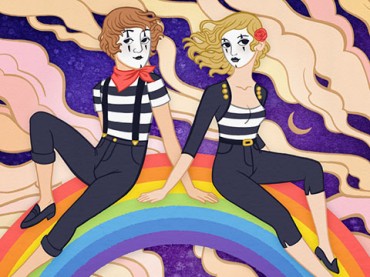 Proving that pop culture and political outrage are cyclical, protesters went full mime at the University of California-Berkeley to protest the school's continued employment of John Yoo, a former George W. Bush administration official, as a law professor, The Daily Californian reported.
Yoo's legal memoranda in the Justice Department are known as "torture memos" for their interpretation of the Geneva Convention with regard to prisoners held at Guantanamo Bay.
He's been at Berkeley intermittently since 1993 but received an "endowed faculty chair" just this June, and has been subject to repeated protests by students since returning to campus in 2009, The Daily previously said.
Yoo wasn't even on campus – he's on sabbatical – when activists took it to the streets:
Community members from the Berkeley Peace and Justice Commission, the Meiklejohn Civil Liberties Institute and other organizations participated in a "rally and street theater."

The group performed a miniature play in front of Boalt Hall, where [Berkeley resident Cynthia] Papermaster dressed as a caricature of Yoo while holding a printed copy of the constitution. They later mimed his arrest after he was "caught" tearing and subsequently burning the constitution.

Papermaster, as Yoo, was brought before a man playing U.S Attorney General Eric Holder for "indictment, investigation and prosecution."
Sadly there doesn't appear to be video of the protest, but fans of puns ("Shame On Yoo") can enjoy more anti-Yoo materials – posted as recently as this week – on FIRE JOHN YOO! 
Read the full Daily story here.
Like The College Fix on Facebook / Follow us on Twitter
IMAGE: Nancy Muller/Flickr
Like The College Fix on Facebook / Follow us on Twitter