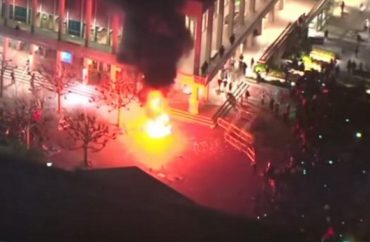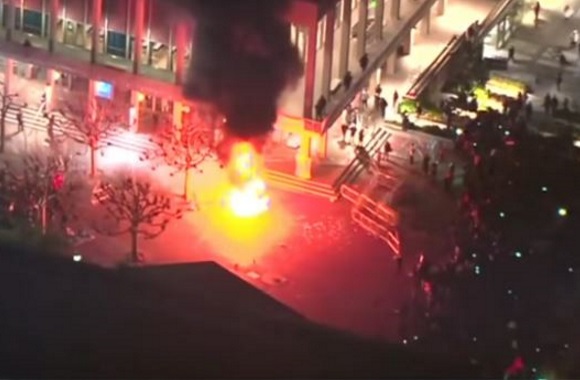 Six days ago Berkeley College Republican Naweed Tahmas feared for his safety — all because he helped organize a campus talk by a gay immigrant.
Tamhas, in an interview with The College Fix, said it was bad enough that he was pushed and shoved by demonstrators as he headed to help prep for Milo Yiannopoulos' speech.
It got worse as he and his peers sheltered in place as fire bombs were thrown at the building.
And now Tahmas said he's been told to watch his back because he may get jumped, and an Antifa affiliate has also threatened to publish the names and contact information of those sympathetic to Milo's visit, called "doxing."
Undaunted by the harassment and threats, he told The College Fix he is proud to stand for free speech.
The night of: 'It was so violent'
Regarding the night Berkeley burned as protesters effectively shut down Yiannopolous' speech, Tahmas said it was hectic from the start.
By the time he got to the Martin Luther King Jr. Student Union to begin prepping for the event at 5:30 p.m., a throng of students and other demonstrators flanked the building. As he walked through the crowd, protesters surrounded him and closed in on him, pushing and shoving him from all sides.
"We know who you are, you can't hide from us," Tahmas recalls them saying as he pushed through the crowd.
"It was so violent at that point," he said. "They were surrounding me. They were assaulting me."
Rattled but essentially unharmed, he made it into the building. There he met up with Yiannopolous and other Berkeley Republicans. But it was not long before someone pulled the fire alarm. Then protesters began shooting M-80 firecrackers at the building, with several narrowly missing the group and the police officers attempting to guard them.
Tahmas said one of Milo's security guards, a former Navy Seal, even commented: "I haven't seen protests like this since Afghanistan."
As the protesters began to light fires around the building, Tahmas recalls thinking that "they [were trying] to burn the building with us in it."
"I don't think they would have had any regrets burning us alive," Tahmas told The Fix. "We were basically like cattle. The protesters shouted, 'We're going to burn and shut your shit down.'"
At that point, the group decided to exit the back of the building, with Milo going separately to an underground parking garage. As the group maneuvered by the protesters, they yelled, "F-ck the Berkeley College Republicans!"
Tahmas told The Fix that someone had posted his personal information on Facebook and Twitter before the protests. As a result, several demonstrators appeared to recognize him might have tried to follow him home, so he ended up sleeping at a friend's house that night for his own safety.
More threats loom
Since that night, Tahmas has continued to face threats for his role in organizing the event.
"One individual mentioned they were 'going to catch me in the shadows' when I was on campus," he said.
Some have claimed the protest was orchestrated not by students, but by outside left-wing organizers. Tahmas disagrees.
"It was a combination of both [students and protesters]," he said. "To suggest students played no role in the protests in preposterous. There is footage of even the so-called 'non-violent' protesters cheering the violent actions of the other protesters. There were meetings on campus organizing the protests that alluded to the planned use of violent tactics."
Moreover, since the event, an anonymous leftist group has threatened to release the names and information of hundreds of prospective Berkeley Republicans members.
"You [are] all receiving this email because you provided your names and emails to the Berkeley CRs at the Milo Yiannopoulos event this week at UC, Berkeley and that sign-up list was leaked," the email, obtained by Campus Reform, states. "I'm currently writing a story about the event, the signup sheet, the College Republicans' lack of security protocols, and your attendance at this questionable event promoting the hateful bigot, Yiannopoulos."
The email, written by left-wing group OLAASM, an Antifa affiliate, states that a story will be published Monday afternoon with the names. The writer also plans to release "commentary on the 'Alt-Right' and their activities on campuses."
MORE: Berkeley College Republicans' personal info published in hit piece by radical leftists
Like The College Fix on Facebook / Follow us on Twitter
IMAGE: YouTube screenshot