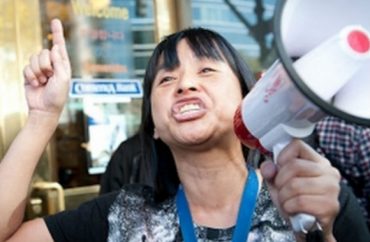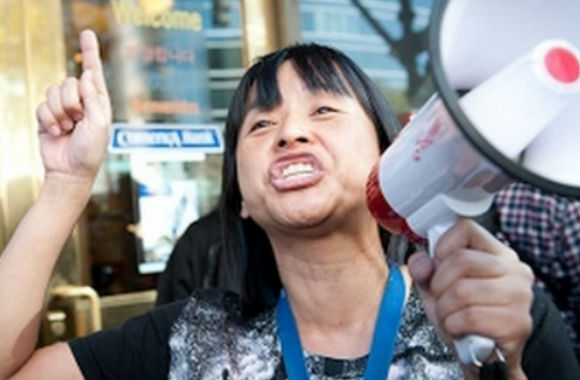 She was defending herself?
Yvette Felarca may be the highest profile militant leftist activist in America based on her leading role in black-bloc riots, including those that forced the cancellation of Milo Yiannopoulos's UC-Berkeley event last year.
Now the Berkeley Unified School District teacher and By All Means Necessary leader has finally been arrested, more than a year after she was captured on video beating up a "white nationalist" at a rally in Sacramento.
The Sacramento County District Attorney's Office announced last week Felarca was arrested in southern California "on charges of Assault by Means of Force Likely to Inflict Great Bodily Injury, Participating in a Riot, and inciting a riot. We have no further information as to Felarca's court date at this time."
The office noted the Traditional Worker's Party had legal permits for the June 26, 2016 protest, but Felarca and her comrades did not: "In the hours that followed, violent clashes occurred between the two groups resulting in a number of assaults and several stabbings."
MORE: If LA Times can identify 'black bloc,' why can't UC-Berkeley?
The California Highway Patrol sought arrest warrants for 101 individuals from that day's protest and counter-protest, but the DA only approved a few, including Felarca's.
Unlike participants whose sought charges did not meet DA "filing guidelines" and others who couldn't be identified – including those behind "all of the stabbings and the attack on a local television reporter" – Felarca was both identifiable and her conduct felonious:
After reviewing all of the evidence submitted, the District Attorney's Office sought and received arrest warrants for individuals whose conduct represented the most egregious offenses that can be proven beyond a reasonable doubt.
According to Berkeleyside, Felarca's school district had no comment on her arrest. She has been a thorn in its side for more than a year, particularly after she appeared on Fox News to defend the violent protests that shut down the Yiannopoulos event.
MORE: 'Stunning achievement' that we shut down Milo with violence, Felarca says
In May, Felarca dropped her lawsuit against the school district for placing her on six-week leave with no explanation last fall. Berkeleyside said court documents later revealed the school district thought she was recruiting students for protests and using personal days off "inappropriately."
The Associated Press reported that Felarca's attorney said the charges were "politically motivated by her outspoken opposition to President Donald Trump" and that the video showing her beating up the man "may have been edited and that Felarca was defending herself."
Read the DA's announcement, Berkeleyside report and AP report.
MORE: Berkeley Republican says pro-Milo students still getting threats
Like The College Fix on Facebook / Follow us on Twitter
IMAGE: Tucker Carlson Tonight/YouTube