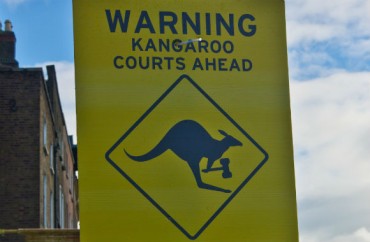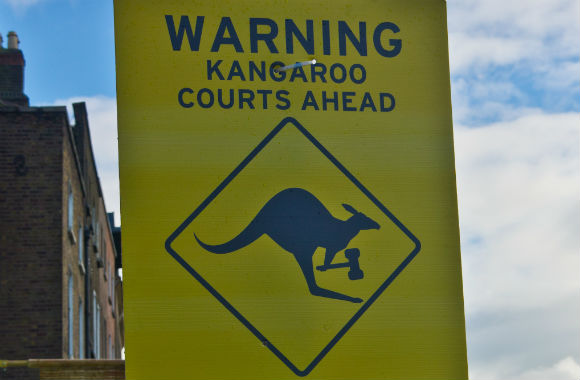 Dozens of posters for his talk torn down
IRVINE, Calif. – If 1 in 5 college females is raped or sexually assaulted, Andrew Cavarno says American universities would be one of the most dangerous places in the world for young women.
In fact, the 2016 UC-Santa Barbara graduate argues the figure would make colleges more dangerous than inner-city Chicago, prison or the war-torn Congo. However, campuses aren't that treacherous.
That's because the oft-touted 1-in-5 figure just doesn't hold up, Cavarno told attendees during a recent presentation at UC-Irvine. His presentation, "Campus Rape Hysteria: False Stats and the Assault on Due Process," debunked such statistics and pushed for robust due process in campus rape proceedings.
"There is no evidence of a campus rape epidemic," said Cavarno, whose talk was hosted by UC-Irvine's Conservative Student Union.
In some ways, Cavarno was an odd guest for the conservative group. He's a "self-described progressive with some libertarian leanings," and was involved in his own campus's Students for Bernie club.
But he's passionate about his message and wants to spread it, even if nobody on the other side of the issue wants to debate him.
When he presented last year at his alma mater, he sent 165 emails to different groups and individuals in an effort to set up a debate. He had no luck.
MORE: No one will debate this Bernie-supporting, campus-rape debunker
At UC-Irvine, the story was the same. One campus group, Feminist Illuminati, rebuffed the invitation and then wrote an open letter critiquing the event's title, claiming it could cause "further emotional trauma" to rape victims, and then suggesting the talk be framed "as a debate, not a talk."
"However, this [critique] was somewhat perplexing, as we had repeatedly reached out to them to present the alternative position," Cavarno said of the letter.
Additionally, about 40 posters promoting the Feb. 23 event were torn down on campus.
Due process is a 'two-way street'
Arguing there's no widespread consensus on how many female students are sexually assaulted, Cavarno's presentation at UC-Irvine outlined that the figure is certainly lower than 1 in 5 because surveys never directly ask women if they've been assaulted or raped.
Instead, according to Cavarno, surveys ask about encounters that don't meet the legal standards for sexual misconduct, fail to distinguish between sexual assault and lesser forms of sexual misconduct and include "vague and ambiguous" questions.
These faulty statistics matter, Cavarno said, because they've been used to eradicate due process for accused students. He points to the Obama administration's 2011 "Dear Colleague" letter as an example.
"The letter advocated policies that diminished due process protections, also making it a lot easier for men to be punished for sexual assault or rape," said Cavarno, who added bad stats have led to the toxic ideology of "rape hysteria."
MORE: Dozens of posters promoting 'Campus Rape Hysteria' talk torn down
He also stressed that countless men have seen their futures upended by false rape claims.
"There are literally thousands of men, many of whom spent decades in jail before being exonerated, that had their lives and reputations ruined by false allegations," he said.
Due process, Cavarno argues, is a "two-way street" that ensures accusations are thoroughly investigated and allows the accused the opportunity to defend themselves.
But as for university proceedings, there's a simple solution to fixing the problems they present.
"Schools are just inherently incapable of adjudicating sexual assault," Cavarno said.
Conflicts of interest, such as the threat of losing federal funding, and minimal investigative ability prove schools shouldn't be adjudicating these allegations, Cavarno said.
The fight continues 
The message Cavarno shares is one he hopes to spread. He's in the process of organizing more campus talks.
Despite dozens of unmet invitations, Cavarno told The College Fix he isn't giving up on setting up debates.
"I welcome anyone who is willing to participate in a two-sided conversation, and I would be more than happy to agree to reasonable rules of engagement," said Cavarno (pictured). "For me, this has never been about just winning the argument. My only motivation is to change hearts and minds as it relates to due process rights for accused students."
Meanwhile, he's also working on a national effort pushing for due process rights in sexual-misconduct proceedings.
"In addition to giving more lectures, I want to organize an intercollegiate coalition of students from schools across the country to fight for due process on campus."
An aspiring lawyer, Cavarno said he will fight for due process wherever it's under threat. He just wishes his current battle is over by the time he passes the bar exam.
"However, I'm hoping that this issue will be resolved long before I become a practicing attorney, and that there will be a new frontier to fight to protect people's due process rights," he said.
MORE: Female rapes disabled student, gets him expelled; university fires his dad
Like The College Fix on Facebook / Follow us on Twitter
IMAGE: infomatique/Flickr