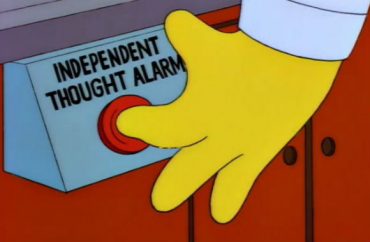 Trump-Mexican teammate photo got full adjudication
Goucher College's "bias education and response team" summary for 2016 has some revealing entries.
The private Maryland college, perhaps best known for graduating National Review writer Jonah Goldberg, got some of its most senior administrators involved in disputes such as controversial classroom discussions and transgender pronoun use.
The bias complaints are concentrated in the fall: The only one made before September said "Israel" was crossed off a flyer that read "My Beautiful Israel."
Here's a sampling of others that involved dean-level officials or higher:
Incorrect pronouns were used to identify a trans person and assumptions were made about individual's sexuality in a class.

Information shared with Vice President/Dean of Students and Provost, and discussions have begun on how to move forward to best address incidents within the classroom while also providing professional development opportunities. …

MORE: 'Racism release form' is popular at Goucher

Dismissal of the history of native folxs [i.e. "folks"], and undermining of the impact of slavery in a classroom.

Information to be shared with the Vice President/Dean of Students and Provost. A member of the team has been involved in discussions on possible options moving forward in addressing incidents within the classroom.
Dangers of the "bias response team" (major theme of @TheFIREorg); item from @gouchercollege's recent report, implicating academic freedom: pic.twitter.com/QodtrDvqCb

— KC Johnson (@kcjohnson9) March 11, 2017
An incident outside the classroom:
Electronic communication used "pilgrims" and "Indians" to describe staff for an upcoming event. In addition, the communication included pictures and a comic strip with Indigenous folx and pilgrims.

Documented for records. Information shared with Vice President/Dean of Students and Provost, and a discussion has begun on how to move forward when addressing incidents within non-academic departments.
MORE: Bias teams show just how far gone universities really are
One dean-level investigation was spurred by a social-media photo where lacrosse-team members "dressed as Trump" or wore "stereotypical Mexican 'clothing'":
Referred for review through the judicial process for investigation. Luz Burgos-Lopez, Assistant Dean of Students, has met with the coaches and will continue supporting future initiatives within the team and the department to address issues of identity, power, and oppression. Luz Burgos-Lopez, Assistant Dean of Student has developed and implemented workshops in collaboration with members of B.E.R.T for the team.
Goucher College Bias Education and Response Team 2016 Report Summary by The College Fix on Scribd
The Title IX coordinator and an associate dean reviewed and adjudicated online comments "containing rape jokes and insults towards female-identifying individuals."
In all, the bias team said it received 31 reports, eight of which concluded that "bias could not be determined." Fifteen of 19 "cases" were "determined to be bias." Five were classified "online" or "social media."
MORE: New diversity officer wants 'zero tolerance' for bias incidents
MORE: Campus activists who complain all the time are hurting their causes
Like The College Fix on Facebook / Follow us on Twitter
IMAGE: Frinkiac.com