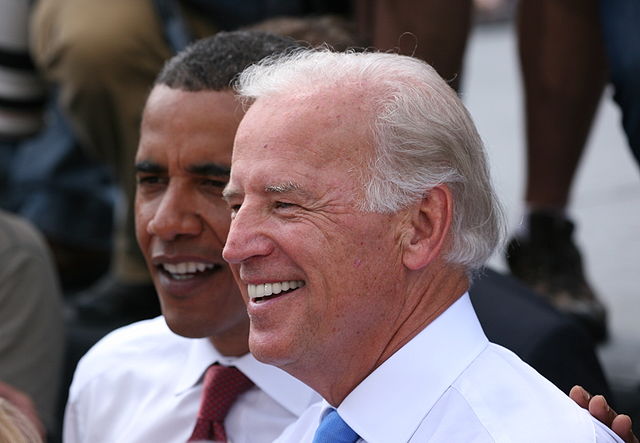 Good 'ole Joe Biden. You can always count on him to say what he shouldn't. Remember when the revolution was underway in Egypt? In stepped Joe to praise Hosni Mubarak, the Egyptian dictator.
"Mubarak has been an ally of ours in a number of things. And he's been very responsible on, relative to geopolitical interest in the region, the Middle East peace efforts; the actions Egypt has taken relative to normalizing relationship with — with Israel. … I would not refer to him as a dictator."
And who could forget his compliment of then-candidate Barack Obama's precedent-setting personal hygiene in 2007? "I mean, you got the first mainstream African-American who is articulate and bright and clean and a nice-looking guy. I mean, that's a storybook, man."
How about when Biden warned his running mate during a stump speech on gun control in September 2008? "Barack Obama ain't taking my shotguns, so don't buy that malarkey. … I've got two, if he tries to fool with my Beretta, he's got a problem."
If he hadn't been running for VP, that comment might have been enough to get him arrested.
There is also his comment about the convenience store industry back in 2006. "You cannot go to a 7-Eleven or a Dunkin' Donuts unless you have a slight Indian accent. I'm not joking."
Our vice president shoots from the hip. And he shoots badly. But his rhetorical Beretta does occasionally manage to hit the mark. Lately, for example, he's been taking aim at out of control college tuition costs. And he has actually said a couple of things that make sense.
He told a Pennsylvania crowd that bloated faculty salaries are to blame for making college unaffordable. Responding to a question about why costs were rising so fast, he said: "Salaries for college professors have escalated significantly. They should be good, but they have escalated significantly." He went on to explain that there is "a lot of competition for the finest professors. They all want the Nobel laureates."
There are two fundamental rules for Democratic politicians. No. 1: Never criticize a public employee. No. 2: There is no such thing as an educator who makes too much. Biden seems to forget both rules.
I'm curious: What does professor Jill Biden think about her husband's remarks? It's true that many tenured professors earn six-figure salaries for teaching only a couple times a week. Plus, they take the summers off and get paid sabbaticals. I can't think of many other professions with that kind of work-to-compensation ratio.
What Biden may not know is that big-salaried university administrators are an even bigger problem. Research directors, student life coordinators, vice presidents of diversity — universities have been multiplying these kinds of high-paid positions for decades. They don't increase what students learn; they just increase the tuition bill.
Recently, a student at Florida State asked Biden whether he believed student loan subsidies had led to higher tuition prices. "In a pure free-market, the college tuition would have to be lower because there would be fewer people going to school, they wouldn't have as much coming in," the vice president said. "But the end result is we would probably have — we go for the better part, half a generation, of going 16th in the world maybe down to 20th in the world."
Maybe there should be a third cardinal rule for democratic politicians. No. 3: Never admit a government spending program has had a negative outcome.
Nevertheless, in this case, I'm grateful for the vice president's candor. Much like the housing bubble before it, the current bubble in tuition prices is an unintended consequence of a government subsidy designed to help, but doomed to hurt, the American people.
Average graduating college debt is now at an unprecedented $28,000 per student and rising. It is clear that loose lending standards behind government-guaranteed loans have made students increasingly willing and able to pay whatever universities charge. Universities, of course, are happy to charge as much as students are willing to borrow.
No wonder tuition costs have been increasing at a rate far higher than inflation for more than three decades. Under Obama's newly nationalized student lending program, which does nothing to tighten up those loose lending standards, things are on course to get even worse.
Reminds me of something else Biden said in the summer of 2009: "The truth is: We and everyone else misread the economy."
This article originally appeared in the International Business Times, and is reprinted here with permission. Follow Nathan on Twitter @nathanharden.
Like The College Fix on Facebook / Follow us on Twitter