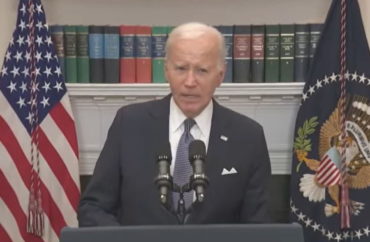 Critics argue Biden seeks to enact 'new entitlement scheme by executive diktat'
As President Joe Biden's latest proposal to cancel billions of dollars in student loan debt winds its way through the administrative process, some cheer the plan while others pan it as just another attempt at circumventing Congress.
The proposal has become a major point of contention between proponents who see it as a lifeline to struggling students and critics who view it as an overreach of executive power and a financial pitfall.
Steve Israel, a Cornell University professor of government and a former Democratic Representative from New York, said Biden's new plan to use the federal rulemaking process will allow it to be more successful.
"I'm pleased that the president has found a constitutional way to assert its powers in this regard," Israel said in an email to The College Fix.
On June 30, the Supreme Court rejected Biden's first attempt at student loan forgiveness, arguing the $430 billion bailout of debt held by 40 million Americans was not constitutional under the HEROES Act, calling it an overreach of executive authority. The act is only meant for times of emergency.
Within hours of the Supreme Court defeat, the Biden administration announced a new attempt at student loan cancellation, this time using the Higher Education Act of 1965. The act gives the Education Department the authority to "enforce, pay, compromise, waive, or release any right, title, claim, lien, or demand" related to federal student debt.
The act requires officials to go through a complex process called negotiated rulemaking, which could delay the arrival of widespread student-debt relief. Given the procedural complexities and likely legal battles, student loan cancellation is expected to remain a hot issue heading into the 2024 campaign season.
Richard Bensel, a professor of American politics at Cornell University, said he believes Biden's new proposal will face lawsuits.
"The Biden administration, like the Trump administration before it, has been quite aggressive [in expanding presidential authority] and we can expect more litigation on this front," Bensel told The College Fix via email.
A public hearing was held July 18, allowing borrowers, advocates and experts to provide feedback on the proposed debt-relief plan, which seeks to expand on Biden's June 30 decision to unilaterally write off $39 billion in student loan debt.
The Biden Administration has approved $116.6 billion in loan forgiveness to date, including $45 billion through "improvements" to public-service loan plans, The Wall Street Journal reported July 14.
The Education Department is now selecting negotiators from various sectors, including students, lenders, educational institutions, and collection agencies, to convene for three monthly sessions to seek unanimous agreement on the debt-relief proposal.
Once consensus is achieved, the rule will be published on the Federal Register for further public comment before the final rule is established.
Biden appeared resolute when announcing his plan to use the Higher Education Act, saying "I'm not going to stop fighting to deliver borrowers what they need."
The new plan, much like Biden's original attempt to use the HEROES Act for student loan debt cancellation, has garnered both support and criticism.
Many progressive leaders were outraged by the Supreme Court decision. Sen. Elizabeth Warren, who has long argued for using the Higher Education Act to cancel student loan debt, said the "fight isn't over. The president has more tools to cancel student debt—and he must use them."
Sen. Bernie Sanders accused the court of "doing everything possible to protect the big money interests against the needs of struggling working families" and called on the Biden administration to "implement a Plan B immediately."
The Wall Street Journal editorial board, however, is critical of Biden's effort to cancel student loan debt using the Higher Education Act, arguing "Mr. Biden's student loan Plan B ignores the High Court's major questions doctrine, which holds that executive actions with major consequences require approval from Congress. It also flouts Congress's power of the purse."
"All of this adds up to a new entitlement scheme by executive diktat. He's buying votes of young people and the support of the university class without a vote or even a debate in Congress," the editorial board added.
Republican Congresswoman Virginia Foxx also denounced Biden's new plan.
"Taxpayers just got sucker punched—again—by this administration," she said in a news release. "What the president is pushing is illegal, inflationary, and irresponsible."
MORE: Biden's new student loan bailout plan ignores Supreme Court ruling, tries same thing twice
IMAGE: YouTube screenshot
Like The College Fix on Facebook / Follow us on Twitter