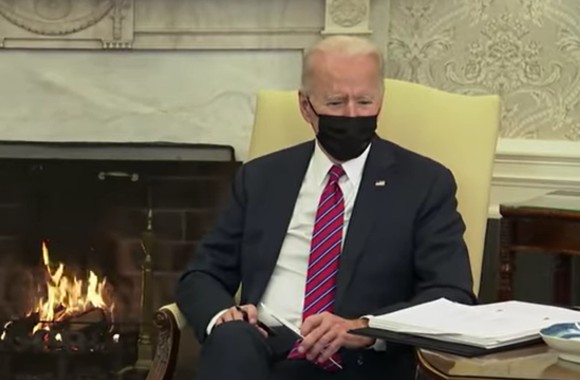 UPDATED
Complete package totals $1.9 trillion
President Joe Biden's administration appeared to have removed its "American Rescue Plan" stimulus proposal from the White House website. The stimulus plan included $170 billion in new education funding.
A prior link to the plan now redirects to whitehouse.gov. The stimulus proposal would cost $1.9 trillion but it has faced pushback from Republicans. The College Fix found a copy of a link posted on January 20, however the link did not show up in prior search result attempts. As of February 4, the link can be viewed here.
The link does not show up in cached searches on Google for the period January 29 to February 1, but shows up if the time range is set earlier.
It's not clear why the administration did not redirect its transition website page to a counterpart on the White House website, or if the link had been temporarily removed or unviewable when The Fix first tried to find it.
However, the administration's current COVID-19 page does not discuss education. It primarily discusses vaccine and personal protective equipment production and distribution, mask mandates and rejoining the World Health Organization.
"A critical plank of President-elect Biden's COVID-19 plan is to safely reopen schools as soon as possible – so kids and educators can get back in class and parents can go back to work," the stimulus document, released prior to the inauguration, said.
The document said:
President-elect Biden is calling on Congress to provide $170 billion — supplemented by additional state and local relief resources — for K-12 schools and institutions of higher education. These resources will help schools serve all students, no matter where they are learning, and help achieve President-elect Biden's goal to open the majority of K-8 schools within the first 100 days of his Administration.
The plan would "[p]rovide $130 billion to help schools to safely reopen." Schools would have flexibility to spend this money on coronavirus safety measures. The document said schools could use the money to reduce class sizes, improve ventilation, hire more janitors to clean schools or hires nurses.
Biden also wanted to increase funding to the "Higher Education Emergency Relief Fund," adding another $35 billion. This money "will be directed to public institutions, including community colleges, as well as, public and private Historically Black Colleges and Universities and other Minority Serving Institutions."
Another $5 billion would go to "governors to use to support educational programs and the learning needs of students significantly impacted by COVID-19, whether K-12, higher education, or early childhood education programs."
A higher education group, the American Council on Education, commented on the relief fund. The plan "doesn't address the needs of hundreds of private nonprofit colleges and universities and the millions of students they serve and the communities that depend on them for so much of their economy," according to a statement on its website. The association represents 1,700 universities across the country.
Editor's note: Several days after publication of the article, The Fix found a copy of the stimulus plan online. It's not clear if there was a technical error that prevented it from being seen before. The original link does not automatically direct to the new page.
IMAGE: The White House/YouTube
Like The College Fix on Facebook / Follow us on Twitter