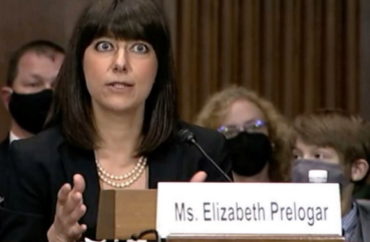 The Department of Justice has granted U.S. Solicitor General Elizabeth Prelogar an ethics waiver, permitting the former Harvard professor to support race-based admissions in a Supreme Court case involving Harvard University.
Prelogar, who taught at Harvard Law School in the fall of 2020, was nominated for Solicitor General in August 2021 and confirmed by the Senate that October. Under the Biden Ethics Pledge, Prelogar was prohibited from working on a court case relating to her former employer until two years after her appointment.
But the ethics waiver releases her to argue the case before the Supreme Court.
Protect the People's Trust, an ethics watchdog organization, recently obtained a copy of an ethics waiver granted to Prelogar by the DOJ in November 2021. The form released Prelogar from the two-year requirement for the case Students for Fair Admissions, Inc. v. President and Fellows of Harvard College.
"The timeline is very curious, especially with such a clear potential conflict of interest that required not just one, but at least two waivers, only one of which is currently publicly available," said Michael Chamberlain, director of Protect the People's Trust, in a recent email to The College Fix.
While the ethics waiver explicitly prohibited Prelogar from working on other court cases involving Harvard, Prelogar was allowed to contribute to Students for Fair Admissions because it was determined that her participation served "the public interest."
"In this matter, the government has need of your participation," the waiver reads. "The case is high profile and of considerable importance to the Department and the Administration. It raises a constitutional question that may have far-reaching and long-lasting effects on universities across the nation."
Students for Fair Admissions is one of three lawsuits filed against separate universities by the group Students for Fair Admissions, a nonprofit organization with over 20,000 members who "believe that racial classifications and preferences in college admissions are unfair, unnecessary, and unconstitutional," according to its website.
In Students for Fair Admissions, Asian-American students argues Harvard discriminated against them in admissions policies based on race, violating Title VI of the Civil Rights Act of 1964.
Those backing Students for Fair Admissions also sought to overturn the case Grutter v. Bollinger, which held that race could be used by universities in admissions processes to promote diversity in the student body.
Students for Fair Admissions lost in a federal appeals court, prompting them to take the case to the Supreme Court. Prelogar was given the opportunity to file a brief supporting race-based admissions on behalf of the federal government when the court postponed an appeal hearing in June 2021, according to a Jan. 5 news release by Protect the People's Trust.
Prelogar filed an amicus brief in December 2021 advising the court not to take up Students for Fair Admissions. In the 27-page document, Prelogar argued that the federal appeals court had relied on precedent such as Grutter to deny the request to eliminate race as an acceptable consideration in admissions processes.
"After affirming the district court's detailed factual findings, the court of appeals held that Harvard's limited consideration of race in admission complies with this Court's precedents because it is narrowly tailored to further a compelling interest in the educational benefits of a diverse student body," the brief stated.
Students for Fair Admissions declined to comment on the ethics waiver and Prelogar's participation in the case.
The waiver stated Prelogar had "unique qualifications to meet the government's need" in Students for Fair Admissions, citing her title of Solicitor General and experience in Supreme Court litigation.
After graduating Harvard Law School in 2008, Prelogar was a clerk for Attorney General Merrick Garland and Justices Ruth Bader Ginsburg and Elena Kagan. Prelogar was an assistant to the solicitor general from 2014 to 2019, also assisting in Robert Mueller's Russian interference probe from 2017 to 2019.
Prelogar taught the Supreme Court and Appellate Advocacy Workshop at Harvard Law School until December 2020. One month later, Prelogar was named acting solicitor general before Biden nominated her for the permanent position in August 2021.
Protect the People's Trust suspects another waiver was granted to Prelogar prior to the ethics waiver obtained by the ethics watchdog group, its Jan. 5 news release stated. Protect the People's Trust filed a request through the Freedom of Information Act to gain access to other documentation concerning Prelogar's participation in the case.
"With a series of significant events occurring prior to her receipt of the waiver that is public, the circumstances raise questions regarding whether the proper procedures were followed and whether the waiver process was appropriately applied," Chamberlain told The College Fix. "If the DOJ is serious about addressing these concerns, it can start by releasing the records we requested in our FOIA."
MORE: 'Abuse of executive power': Christian seminaries challenge Biden's vaccine mandate
IMAGE: YouTube screenshot
Like The College Fix on Facebook / Follow us on Twitter