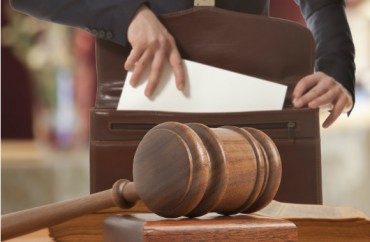 Some of the most prominent law professors around the country have signed an open letter calling on lawmakers to reject and replace the Department of Education's "overly broad" definition of sexual harassment.
"In defense of the principle of fundamental fairness," the professors also laid out a legal process for reviewing the sexual-misconduct regulations issued by the department's Office for Civil Rights  (OCR) that violate "constitutional law, judicial precedent and Administrative Procedure Act requirements."
The letter, distributed by the due-process group Stop Abusive and Violent Environments, is signed by professors including Harvard's Alan Dershowitz, Elizabeth Bartholet, Charles Donahue and Richard Parker; Richard Epstein of NYU and the University of Chicago; Donald Downs of the University of Wisconsin-Madison; Stephanos Bibas of the University of Pennsylvania; and Stanford's Michael McConnell:
Some of us have witnessed the injustices resulting from institutions that downplay or ignore sexual harassment on their campuses, and we commend OCR for taking a proactive approach to this problem. In pursuing its objectives, however, OCR has unlawfully expanded the nature and scope of institutions' responsibility to address sexual harassment, thereby compelling institutions to choose between fundamental fairness for students and their continued acceptance of federal funding.
RELATED: Alan Dershowitz shows the best way to fight sexual-assault allegations: defamation suit
With their repeated use of language such as "must," "require" and "obligation," OCR documents frequently make demands of colleges that not only have no "regulatory or statutory basis" but have "effectively nullified" core constitutional precedents, the professors write, littering the letter with footnotes.
By expanding beyond the Supreme Court's narrow test for sexual harassment in Davis v. Monroe, OCR has:
contradicted legal requirements that harassment must be "pervasive" and "objectively offensive"

required a low evidence standard that is inappropriate in "situations involving damage to one's reputation"
RELATED: Feds to Harvard law faculty: You lost, shut up about due process for the accused
told schools to consider "the effects of off-campus conduct" – the legal rationale for Northwestern's Title IX investigation of Laura Kipnis for her "sexual paranoia" article
The spillover effect is that harassment complaints are obliterating the speech rights of students and faculty:
These complaints are often cloaked in language such as "micro-aggressions" or a "lack of safe space." By virtue of their vague and subjective nature, these allegations are not amenable to being disproven in any legal sense. … Expanding upon this dubious logic, some campus advocates are now seeking immunity from criticism of their unlawful actions.
RELATED: The Laura Kipnis saga: Privacy paranoia runs amok once more on campus
The professors make several due-process recommendations at odds with those who claim campuses are full of "rape culture":
Tell accused students what they are specifically accused of doing

Give them "access to all evidence" and an "independent advocate"

Let them cross-examine witnesses and accusers

Tell law enforcement about "criminal" allegations so that "at a minimum, they may investigate, collect, and preserve evidence for potential future use"
RELATED: As UW-Madison greets new anti-bullying policy, free speech concerns remain
Lawmakers could counter OCR's demands by codifying the Davis v. Monroe standard for sexual harassment, but college administrators shouldn't wait to change their own codes to align with Davis, the professors say:
OCR has brazenly nullified the Supreme Court definition of campus sexual harassment. These unlawful actions have led to pervasive and severe infringements of free speech rights and due process protections at colleges and universities across the country.
RELATED: Penn law faculty revolt over new sexual-assault investigation procedures
Like The College Fix on Facebook / Follow us on Twitter
IMAGE: Shutterstock