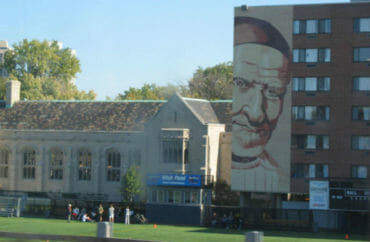 Contempt for orthodoxy, contempt for free speech
Last month DePaul University's student paper asked where all the Catholics are at the nation's largest Catholic university, with more than 22,000 students.
Not only is its new president not a Catholic priest for the first time in its 120-year history, but DePaul's first-year population that identifies as Catholic has fallen 19 percentage points in the past decade. They are no longer a majority.
Catholic Campus Ministry events aren't even drawing the self-identified Catholics, with attendance between 10 and 25 students at most weekly events, according to The DePaulia.
There's an obvious answer to this mystery. To quote one of the lapsed Catholics, "DePaul doesn't feel like a Catholic school at all":
With signs welcoming LGBTQ+ youth, it doesn't feel like the Catholic faith of yesterday. …

Amanda Thompson, the director of CCM, said that being Catholic at DePaul isn't quite the same as being Catholic elsewhere.

"DePaul has more of a progressive, liberal Catholicism," she said. …

MORE: DePaul bans 'Unborn Lives Matter'

Many Catholics believe that for the Catholic Church to stay relevant, it will need to redefine some of its values, especially when it comes to LGBTQ+ and women's reproductive rights. …

Without hesitation, [Rev. Jeremy] Dixon said that anybody can be gay and still be Catholic.
Why would faithful Catholics want to attend a school that is openly hostile to orthodox Catholicism? That prods students to become LGBT activists? That bans pro-life activism? That employs a Muslim official who supported "re-establisling the Islamic State"?
Thompson, the CCM director, responds: "This is a place of dialogue."
Except it's not, even in the eyes of the secular world.
DePaul has earned the first-ever "Lifetime Censorship Award" from the Foundation for Individual Rights in Education as part of the free-speech group's annual "10 worst colleges for free speech" list.
MORE: DePaul bans Ben Shapiro
For the first time, FIRE is presenting our Lifetime Censorship Award. This "honor" goes to the one university that is so frequently discussed as a contender for our annual "worst colleges" list that it deserves special recognition.

This year? @DePaulU. https://t.co/xCahyoEKNS pic.twitter.com/wp2FWgMjnD

— FIRE (@TheFIREorg) February 12, 2018
It has a "decade-long rap sheet of censorship spanning the ideological spectrum," FIRE said, yet the Catholic-lite school consistently favors progressive censorship:
Banning "Gay Lives Matter" posters for an event on radical Islam's threat to gay rights

Demanding a hefty security fee from the College Republicans, not protecting their speaker from disruptions and refusing to reschedule

Banning conservative commentator Ben Shapiro entirely

Banning pro-Donald Trump chalking … in 2016

Banning criticism of leftist activist professor Ward Churchill

Banning a marijuana-reform student group

Charging a student group for satirizing affirmative action

Charging a student for calling out those who vandalized his pro-life display
And according to FIRE, the school never responded to FIRE's August letter asking whether its free-expression promises mean anything in light of the "Gay Lives Matter" censorship.
Maybe there's a connection between DePaul's contempt for orthodox Catholicism and its censorious habits. If you think so too, FIRE has a free-speech form you can send DePaul.
MORE: DePaul forbids 'Gay Lives Matter' posters
IMAGE: leighty/Flickr
Like The College Fix on Facebook / Follow us on Twitter