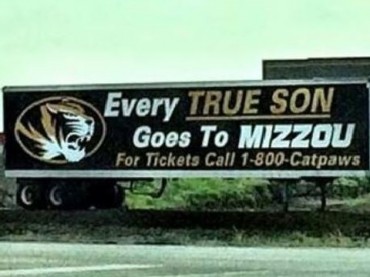 The University of Missouri recently covered up a large sports advertisement that paid homage to its fight song after a progressive female Democrat politician complained it was sexist and condoned a culture of violence against women.
Earlier this month, the school displayed a large trailer with the message "Every True Son Goes to Mizzou" plastered on its side, along with its tiger mascot and the message: "For Tickets Call 1-800-Cat-Paws."
Some on the Columbia campus didn't think twice about it, others were offended.
But the loudest protestation came from Missouri State Rep. Stacey Newman (D-St. Louis County), a feminist politician who founded Progress Women to highlight the "war on women."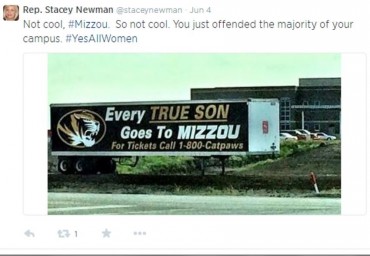 Newman told the university and the local press that the billboard was sexist, especially given the number of female athletes currently enrolled at the school, and also suggested it condoned a culture of violence, citing the recent killing spree near UC Santa Barbara.
"For any college to put that up, you have to say, 'What are you thinking?'" she told the Riverfront Times. "Who are you trying to market to?' I think that message goes much further than they intended."
She did not respond to requests from The College Fix seeking comment. Newman complained to the university, and the banner display has since been covered up, pictures on Newman's Twitter feed show. The university, still reeling from allegations it tried to cover up the sexual assault of one of its female athletes, pulled the advertisement after Newman raised a ruckus about its supposedly dangerous meaning.
The "Every True Son" slogan is derived from the school's fight song: "Every true son, so happy hearted; Skies above us are blue; here's a spirit so deep within us; Old Missouri here's to you."
The original lyrics did not include any mention of a true daughter. The university eventually updated the lyrics to include daughter, but, even after the change, the original version is still used at sporting events.
But the real issue, at least for Newman, is not the song per se, but rather the message that the song conveys. She contends that unintentional sexism – the kind that the "Every True Son Goes to Mizzou" message allegedly promotes – supports a pervasive culture of violence against women.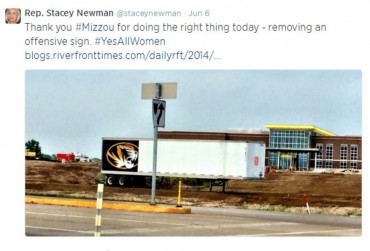 The politician cited 22-year-old Santa Barbara City College student Elliot Rodger, who claimed his hatred for women motivated him to murder six students (four of whom were male), to make her case.
"What struck me immediately is the level of sexism that we are all newly aware of, especially after the shooting in Santa Barbara," Newman told the Riverfront Times. "Many of us are more sensitive to messages, to what's offensive. We're down to the point now where women are in danger. They're losing their lives."
Newman has a penchant for gaining media exposure for extreme views.
For instance, in 2012, she proposed a bill to prohibit "a vasectomy from being performed on a man unless it is to prevent the death or to avert serious risk of substantial and irreversible physical impairment of a major bodily function of the man."
She argued that birth control restrictions affect women disproportionately more than men. Therefore, the proposed bill – HB 1853 – would force men to make the same kind of decisions about birth control that women do. It did not pass.
Again, last month, Rep. Newman tweeted: "Thinking of saying 'Benghazi' while debating tomorrow on the House floor. Just to see what happens. #moleg," which raised the hackles of many of her conservative Twitter followers.
To be sure, there are also students who disagree with Newman's angle on the billboard and on sexism in general.
MU student and doctoral candidate Erica Evans, for example, told The College Fix that she believes the billboard's message and meaning is likely lost on people who do not know Mizzou's fight song.
While the message might appear sexist, Evans notes, it does not condone violence toward women.
"Instead of just sticking to the main argument she (Newman) makes a giant leap to imply that Mizzou condones and encourages violence toward women by using this advertising," Evans told The Fix, adding that makes Newman's overarching argument seem "silly and a stretch."
College Fix contributor Christopher White is a University of Missouri graduate student and an editorial assistant for The College Fix.
Like The College Fix on Facebook / Follow us on Twitter
IMAGE: Twitter