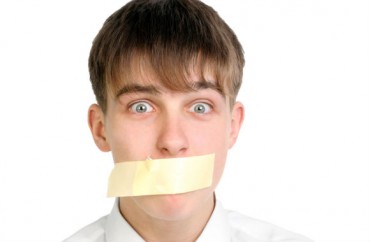 Liberal lawmaker dooms bill in Washington state
A quickly spreading grassroots movement is advocating for the First Amendment rights of student journalists, who can be legally censored by their school districts and colleges in many states.
So-called New Voices bills, named after the project spearheaded by the Student Press Law Center (SPLC), would treat college and sometimes high school journalists similarly to their professional counterparts under state laws.
Backers are getting mixed results. While Missouri House lawmakers passed its bill with overwhelming support last week, Washington state's version was kept from getting a Senate floor vote last month despite minimal opposition.
Groups that represent school administrators and school boards appear to be the primary roadblock to legislation in some states, SPLC Executive Director Frank LoMonte told The College Fix in a phone interview. He's testifying Tuesday in Michigan about its New Voices bill.
School districts afraid of liability
The issue got a big boost following racial protests at the University of Missouri in November, when activists and their allies tried to keep student journalists off public land.
The Missouri New Voices legislation would end the prior restraint of college journalists regardless of how their publications are funded or whether they are produced as part of a class.
The bill, sponsored by a Republican, was passed 131-12 in the House. If approved by the Senate and signed by Democratic Gov. Jay Nixon, it would join a 2015 law sponsored by another Republican that prevents public universities from regulating speech in outdoor areas.
The only organized opposition to the New Voices bill came from the Missouri Association of School Administrators, which told lawmakers in a letter that while the bill is well-intentioned, school districts could be held liable for student journalists' speech.
Months after his video showing the interaction between student media and Mizzou protesters went viral and helped get a professor fired, journalist and activist Mark Schierbecker co-founded the University of Missouri First Amendment Defenders (MU1AD).
The group hasn't stopped at lobbying for the New Voices bill. It's advocating for a "reporters privilege" law in Missouri and for Mizzou to protect free expression by students online as well as on campus.
"The November protests should have been a sure test for student free speech," Schierbecker said in MU1AD's debut press release March 2. "Instead protesters pitted themselves against journalists' right to free speech – negating the message." (Schierbecker is also a contributor to The Fix.)
RELATED: Approved bill protects North Dakota student journalists from censorship
A similar bill also passed the Maryland Senate last week, 36-10, and a Nebraska Senate committee held a hearing last month about its legislation. Unlike bills in other states, Nebraska's does not protect the same rights for high school journalists.
"I agreed to bring this bill because a free society relies on free press," Nebraska Sen. Al Davis said at the hearing.
Red states lead the way
The New Voices movement started in North Dakota, whose bill passed without opposition and became law last April, protecting both high school and college journalists.
"In a very red state, that would not have been anybody's first choice as the most strategic location to launch a campaign," SPLC's LoMonte told The Fix. "The people just got it right away … regardless of party, regardless of ideology."
Since then, about 20 states have launched New Voices campaigns, according to SPLC.
The debate on the constitutional protections for student journalists came to light in the landmark 1988 Supreme Court case, Hazelwood v. Kuhlmeier.
Considering school censorship of student articles on teen pregnancy and divorce, the court ruled 5-3 that schools could exercise editorial control as long as they had "legitimate pedagogical concerns."
SPLC has said that Hazelwood "confined America's young people to a constitutional underclass." The ruling was expanded to college journalists in a 2005 decision by the U.S. Court of Appeals for the 7th Circuit.
Oral sex story justifies censorship for principals
Surprisingly, the first state to frustrate the New Voices campaign was not in the conservative Midwest but the liberal Pacific Northwest, where similar legislation has failed going back nine years.
Washington state's New Voices bill made it through the Senate K-12 Education Committee but died in the Rules Committee, opposed by an influential suburban Seattle lawmaker, Democrat Rosemary McAuliffe.
The state has a troubled history with student journalism. In 2008, a high school student newspaper published a story about oral sex, angering parents of the students interviewed despite the journalists' claims that all interviewees had given consent, SPLC reported.
A representative from the Association of Washington School Principals gave the only testimony against the bill, arguing that the school district acts as a publisher and should have some control over what is published.
That's a baseless analogy, SPLC's LoMonte told The Fix in response to the principals group. "If you are the publisher to a publication, that means you have completed, total, unlimited control. There's no way that the role of a principal or superintendent is in any way analogous to a publisher. And we know that because the Hazelwood case itself sets First Amendment limits."
As for the nature of the opposition, LoMonte said: "It's been pretty predictable that the state level organizations that represent school administrators and school boards will lobby against this bill" with similar reasons as Washington's.
Despite the quiet opposition, SPLC is optimistic about the future of the New Voices bills.
Censorship is "such a 20th century way to run schools," LoMonte said. "It doesn't make sense to try to bubble off kids from information by tearing articles out of newspapers."
RELATED: Missouri kills free speech zones on campus, following Virginia, both led by Democrats
Like The College Fix on Facebook / Follow us on Twitter
IMAGES: Sabphoto/Shutterstock, Washington State Legislature