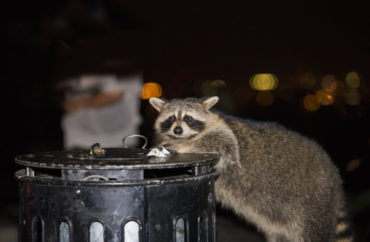 Redlining drove out woodland creatures from minority neighborhoods, and their absence also makes minority residents mentally and physically ill, biodiversity researchers argue
Systemic racism, traditionally thought of as strictly a people problem, negatively impacts the furry, feathered and scaly members of our communities as well, according to some biologists.
University of Manitoba biologist Colin Garroway, and Chloé Schmidt, now at the German Centre for Integrative Biodiversity Research, made the argument in an October 2022 article published in the prestigious journal Proceedings of the National Academy of Sciences.
The College Fix reached out via email in January to both Schmidt and Garroway about the study, but did not receive a response.
In their article, headlined "Systemic Racism Alters Wildlife Genetic Diversity," the duo discussed the findings of a recent study they conducted, writing that in the U.S. "systemic racism has had lasting effects on the structure of cities, specifically due to government-mandated redlining policies that produced racially segregated neighborhoods that persist today."
"However," they noted, "it is not known whether varying habitat structures and natural resource availability associated with racial segregation affect the demographics and evolution of urban wildlife populations."
Therefore, to investigate just how much the practice of redlining, which was outlawed by the 1968 Fair Housing Act, perturbs today's painted turtles and piping plovers, along with a small zoo's worth of other creatures big and small, Schmidt and Garroway wrote that they "repurposed and reanalyzed publicly archived nuclear genetic data" from thousands of individual animals belonging to "39 terrestrial vertebrate species sampled in 268 urban locations throughout the United States."
By doing so, they wrote, they sought to "test the hypothesis that systemic racism produces associations between neighborhood racial makeup and urban environments that alter population demography and thus evolutionary change in city-dwelling populations of amphibians, birds, mammals, and reptiles."
Following the analysis of their data, the authors reported they found "consistent relationships between the genetic composition of wildlife and the racial composition of neighborhoods."
More specifically, they reported that in predominantly white neighborhoods, species generally and consistently displayed "larger effective population sizes" and "higher genetic diversity" among other measures of population health and likely persistence.
They also acknowledged that, based on their analyses, "the effects of segregation on genetic composition were weak."
When trying to explain the reported pattern, the authors noted several reasons for which mostly non-white urban neighborhoods may fail to support thriving wildlife populations.
Some related to features of urban environments that might make them generally less hospitable to wildlife, such as dense human populations, the increased presence of roads and railways, nighttime lights, and more land use by humans.
Others pertained to various policies implemented over the past half century or more, like public investment, zoning for industrial facilities, and decisions about where to develop green-space.
It does not take much imagination to see why environments with a lot of people, heavy traffic, bright lights, and industrial facilities may be undesirable, unlivable, or outright deadly for many species.
However, Schmidt and Garroway go a step further, claiming that the weak but consistent patterns revealed by their data demonstrate it "is clear that systemic racism is altering the demography of urban wildlife populations on a national scale in ways that can shape the evolutionary processes acting on them and the probability of long-term persistence in cities."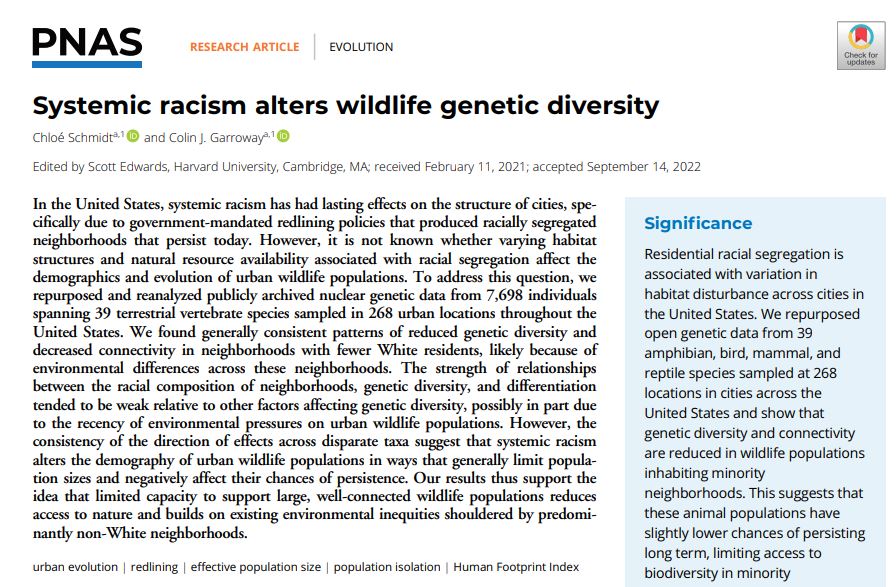 As presented in their paper, it is unclear whether their definition of "systemic racism" in this context specifically refers to redlining and its potentially lingering consequences, general features of urban environments in minority neighborhoods, or a more intentional ongoing policy or process.
Nonetheless, in their PNAS article, Schmidt and Garroway claim the impact of systemic racism on urban wildlife is not only detrimental to the animals, but another way in which systemic racism negatively impacts minority communities.
"These results," they wrote, "are concerning because urban biodiversity is important for human mental and physical well-being, and disparities in access to nature build on existing health-related environmental disamenities in predominantly non-White neighborhoods."
In other words, not only did redlining drive out the red foxes, coyotes, and other woodland creatures from minority neighborhoods, but their absence is making minority residents mentally and physically ill.
Hence, the pair of biologists call for reforms in both city planning and academia to redress these wrongs.
"Equitably distributing and increasing the amount and connectivity of natural habitat in cities," they asserted, can "benefit human well-being while simultaneously helping build resilience in urban wildlife."
They also implied that their findings underline the need for increased racial diversity in the biology subfields of ecology and evolution, in which they claim "racial diversity is enduringly low," thus "fostering blind spots that hold back progress in research that intersects with environmental justice."
MORE: Scholars develop 'Plantifa' curriculum to promote eco-justice 'guerrilla gardening'
IMAGE: Mircea Costina / Shutterstock
Like The College Fix on Facebook / Follow us on Twitter