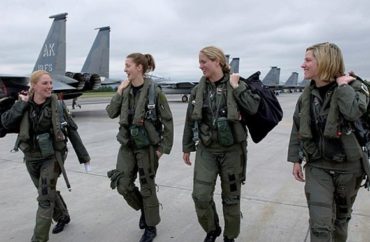 Current rules require students to forfeit parenting rights or drop out of school
Pending Senate legislation introduced by conservative Republican Senator Ted Cruz and liberal Democratic Senator Kirsten Gillibrand seeks to help pregnant and parenting military academy students.
The CADET Act remains pending in committee as of October 21. It would end a long standing policy that forces female military academy cadets who become pregnant during their four years to choose between forfeiting legal rights to their children or leaving the school.
Neither Cruz nor Gillibrand's media teams responded to multiple emails in the past month asking how the two senators came to collaborate on the bill and if any obstacles stand in the way of it becoming law.
It has a backer in a former academy cadet who faced a similar situation while a student.
While an Air Force cadet, Melissa Hemphill had to legally forfeit her rights to the father of her child, now her husband. Then after she graduated, she had to go through the time-consuming and expensive process of adopting her own child. Her story is profiled further in Black Rifle Coffee's magazine, Coffee or Die.
"Under the CADET Act, military academies would treat pregnancies in line with the rest of the military and would require cadets/midshipmen to simply have a Family Care Plan in place," Melissa Hemphill told The College Fix via email on October 15. "Family Care Plans are well known and can be seamlessly integrated into the policies of our service academies."
"Importantly, the CADET Act does all this without changing cadet and midshipmen benefits or responsibilities, and it also does not change current admission requirements for military academies," Hemphill said.
MORE: Check out our Campus Cancel Culture Database
She's been working with Cruz and Gillibrand's legislative aides to get the legislation passed.
"I have been working mostly with the legislative aides and defense fellows within different senators' offices, primarily Cruz and Gillibrand's offices," Hemphill said. "I'm also working with the nongovernmental organization, National Parents Organization, and the AF Women's Initiative Team."
Hemphill has been hearing from other cadets who had similar situations, but there is no clear data on how many students become pregnant while at a military academy.
"Some women resign without citing the reason of pregnancy, many fathers simply hide their paternity, and most have an abortion," Hemphill said.
"For the Air Force, specifically, abortion is considered an elective procedure and a cadet must get approval to have the abortion," Hemphill said. "Our estimate is that the overwhelming majority of servicewomen who choose to terminate a pregnancy would do so off-base and without notifying their military chain of command… so there would be no countable statistics there either."
Her website has resources for how people can support her efforts.
Students for Life Action said it is still looking into the bill through its research process.
However, it said colleges should support pregnant and parenting students.
"Through our Standing With You Initiative, Students for Life of America has spent the last ten years ensuring that pregnant and parenting students know their rights," spokesperson Lauren Enriquez said in an email on October 6. The pro-life student group works to ensure students are "equipped to counter the discrimination they often face from coaches and school administrators who discriminate against them for being pregnant or parenting."
"Pregnancy is not a disease cured by abortion, but rather is a natural event for people," Enriquez said. "We need to be committed to facilitiating [sic] healthy families because all of us will depend on the next generation."
Academies decline to comment
The College Fix contacted the Naval Academy and the Air Force Academy to ask for comment on the legislation and custodial rights for pregnant students.
"It would be inappropriate for us to comment on pending legislation at this time," the Naval Academy said in an unsigned email from its media team on September 28.
"Unfortunately, as this request involves pending legislation it would be inappropriate for the Academy to comment at this time," Dean Miller, the chief spokesperson for the Air Force Academy, said in an email on September 27.
MORE: Pro-life students raised over $100K in one year to help moms in need
IMAGE: Keith Brown/Public Domain
Like The College Fix on Facebook / Follow us on Twitter