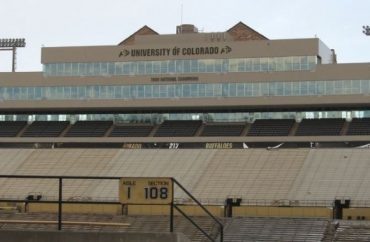 University of Colorado Boulder Chancellor Philip DiStefano recently told the board of regents that some black student athletes have referred to the Dal Ward Athletic Center as "The Plantation" – calling it that because they believed their efforts essentially paid for white student to play sports such as golf and tennis.
The anecdote came as DiStafano spoke to regents in a larger discussion about diversity and inclusion, comments summarized by a local reporter at the meeting in a series of tweets.
"#CUBoulder Chancellor Phil DiStefano is sharing a story about a recent conversation he had with a black athletic dept. staffer," Daily Camera reporter Sarah Kuta tweeted. "DiStefano says black athletes call Dal Ward Athletic Center 'The Plantation' because all they're valued for is their athletic contributions. DiStefano says black athletes call it 'The Plantation' because their performance pays for white people to play golf, tennis, run track. Their sweat and tears is really for other people, not for them."
CU regents appeared "distressed" by the news, the Camera reported.
"Whether we agree, disagree, somewhat agree, somewhat disagree, it's how they feel. To me, in all my years, it's the first time I'd heard that. And it just sticks with me, and I'm thinking, 'We gotta change something," DiStefano had said.
The comments sparked headlines across Colorado, and athletics department officials in statements have since emphasized the nickname is an old one not used for many years. DiStefano also put out a statement responding to concerns.
"I shared this story at yesterday's meeting not because I want to make people feel uncomfortable. I brought it up because we need to bring awareness to these feelings and take these issues head-on," the chancellor stated. "It is important that these previously unspoken feelings be brought forward so that we can truly advance our campus to the inclusive environment we all aspire to create."
Asked by The College Fix to comment on the belief that black athletes shoulder the costs of sports popular with white students, University of Kentucky professor of Higher Education and Public Policy, Dr. John Thelin, pointed out that federal Title IX regulations require universities offer equal sports opportunities to both men and women.
If the athletics department did not offer varsity sports for women in tennis, golf, and others, then it's possible the university's sports program would be subject to a federal lawsuit for a major violation of Title IX, he said in an email.
MORE: Should College Athletes Be Paid?
Hypothetically speaking, if a Title IX lawsuit "led to the court decision that the University of Colorado and its athletic program were out of compliance, it could jeopardize the university's receipt of federal funding for research grants, federal student aid," Thelin said.
"If you want documented examples of inequities in college sports, go back into the 1970s and 1980s and look at the budgets and conditions which women as student athletes and as coaches faced. Now there's exploitation," he added.
According to data provided by campus officials to a local ABC News affiliate, during the fiscal year 2014-15, the CU football program made $11,274,066 while men's basketball earned $343,344. Sports losing money included women's basketball, volleyball, soccer, men's track and field and golf, among others. Even so, CU athletics made $2.58 million that year.
Division I football and men's basketball are considered revenue generating programs while others are non-revenue programs. Revenue programs parlay funding to athletic departments so they can offer non-revenue programs and maintain daily operations. These funds also go toward new uniforms and facilities upgrades, for example.
As for CU Boulder, it also can provide scholarship programs to athletes based on ability, need and other criteria. A recent court ruling also allows universities the right to provide cost-of-attendance stipends to athletes, helping to shoulder cost-of-living expenses above and beyond current NCAA scholarship programs.
MORE: Black students demand segregated spaces from white students
Like The College Fix on Facebook / Follow us on Twitter
IMAGE: KenLund/Flickr