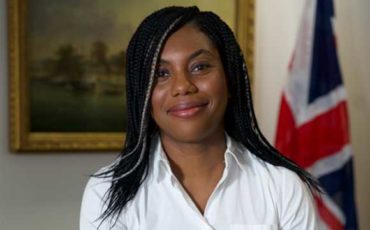 Kemi Badenoch wants to emphasize that British history is 'everyone's history'
The United Kingdom's public education curriculum should be "knowledge-rich" and not primarily focused on racism, according to a black conservative parliamentarian tasked with improving racial equality.
Kemi Badenoch (pictured) wants the government's focus to shift away from "political activism" and a complete history of the United Kingdom, instead of that of individual minority groups.
"A knowledge-rich curriculum" would be the best way to promote inclusivity and shared national identity, Badenoch has previously told The Spectator.
Badenoch stated:
We often hear about there not being enough detail on slavery, the American civil rights movement. I don't think that's appropriate – black groups are not the largest minority in the country, it's Asians and yet we don't hear as much about Asian history – why are we picking one particular group out and highlighting it – I think there's a lot that's wrong with those approaches.

A knowledge-rich curriculum allows schools to look at best practice – it will also help emphasise that British history is everyone's history. My daughter came home from school and said, "It's Black history month – we're doing it because every other month is white history," and I was appalled. It is completely wrong. The history of this country – all our historical figures, the kings and queens, the inventors and scientists who were white also belong to the black children of this country.
As the Minister of State for Equalities, Badenoch has been tasked with responding to a 2021 report, The Commission on Race and Ethnic Disparities, which concluded that the UK education system does not have a systemic problem with racism.
In discussing British public education, the review of the literature  "found no evidence of systemic or institutional racism, but instead pointed to complex factors when seeking to explore what drives the differences in rates of permanent exclusions and suspensions."
She shared the principles that will guide her further in an interview on May 13 with The Spectator.
"There's so much political activism in this space, it's actually hard to get heard, and so many people are scared to talk about these issues," Badenoch said in the interview with The Spectator.
"I'm not surprised that many colleagues who agree with me don't say anything. We've created a situation where if you're white, you're not allowed to talk about race…I think that is wrong," she said.
"We need to stop the mob mentality and the intimidation," Badenoch said. "With everything that's happening right now, in terms of the national conversation on race over the last two years, and much of it going in a very unhelpful and I think destructive direction."
Badenoch arrived in the United Kingdom at 16, an immigrant from Nigeria.
Badenoch, a Nigerian immigrant, does not believe the curriculum has been 'colonised'
Badenoch has been critical of attempts to politicize knowledge and 'decolonise' the curriculum.
"I am still struck by how differently we talk about how black history in the UK, compared to how I was taught it growing up in a country of 200 million people where everyone was black," she said in a 2021 interview for the U.K. Black History Month website.
"Even then, I recognized identity as a complex issue, unique to every individual. Skin colour being a negligible part of it, more salient were culture, language, geography," she said.
Badenoch does not "support plans to decolonise the curriculum as she doesn't believe it has been colonised in the first place," according to March 17 article in The Spectator. 
She also told the Spectator that teachers "should focus on relaying information without judgment." Even more, civil servants such as teachers "ought to refrain from using their work emails to promote political campaigns such as Black Lives Matter."
MORE: BLM activists demand mandatory class on institutional racism
IMAGE: Gov.UK
Like The College Fix on Facebook / Follow us on Twitter