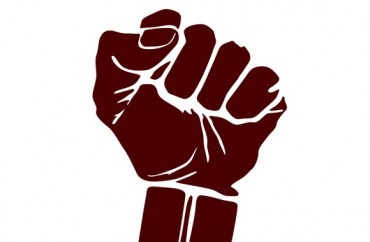 The United States Military Academy is looking into the story behind a photograph showing 16 black female cadets posing outside a barracks with raised fists — a pose akin to that of Black Lives Matter activists.
The women potentially could be in violation of Department of Defense Directive 1344.10, Political Activities by Members of the Armed Forces which, the Army Times reports, warns service members against "partisan political activity" while in uniform.
Black Women Cadets at West Point Raise Fists in Group Photo, "Controversy" Ensues https://t.co/huxrDZoMOr pic.twitter.com/6jLzSWBLrp

— For Harriet (@ForHarriet) May 7, 2016
Supporters of the women claim they were "simply making a gesture of solidarity and strength."
John Burk, an Iraq veteran turned blogger who lives in Georgia, said he was sent the photo by a concerned person at West Point. On Tuesday, he wrote a post saying that by raising their fists, the women were identified with Black Lives Matter activists "known for inflicting violent protest throughout various parts of the United States, calling for the deaths of police officers, and even going so far as to call for the deaths of white Americans."

Mr. Burk, a former drill sergeant, who is white, said via email that he had disciplined soldiers for making Nazi salutes in photos, and felt the raised fist was not much different. "The fact that it could offend someone by its usage qualifies it as a symbol that goes against Army policies," he said, adding, "It's not the fact that they are wrong for having their beliefs, it's the fact they did it while in uniform."
RELATED: Diversity mania takes aim at military special forces units
But others who have spoken with the cadets said that evoking Black Lives Matter was not their intention […]

"These ladies weren't raising their fist to say Black Panthers. They were raising it to say Beyoncé," said Mary Tobin, a 2003 graduate of West Point and an Iraq veteran who is a mentor to some of the seniors and has talked with them about the photograph.

"For them it's not a sign of allegiance to a movement, it's a sign that means unity and pride and sisterhood. That fist to them meant you and your sisters did what only a few people, male or female, have ever done in this country."
Activism, like that seen at many American campuses of late, is not permitted at West Point.
Unsurprisingly, The Times asked a St. Louis University Black Lives Matter organizer his opinion on the controversy.
"If you want to make an institution appeal to a certain kind of crowd," Jonathan Pulphus says, "you don't stigmatize some of the more important cultural pieces to a student's background."
Pulphus added that a raised fist is the current generation's way of paying respects to the Civil Rights movement, and a way to create "a space for themselves in institutions where they tend to not have a sense of belonging."
RELATED: America's college obsession is depriving the military of the best officers, Marine says
RELATED: Obama to colleges: Bring back ROTC, military recruiters
Like The College Fix on Facebook / Follow us on Twitter