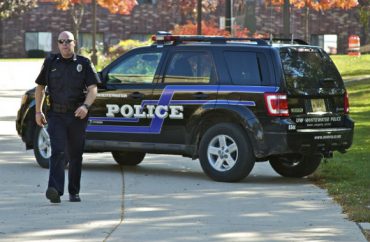 The Harvard student whose arrest "sparked national controversy" after he hung out in the middle of the street without clothes and apparently on the influence of drugs … will not face charges.
After suspect Selorm Ohene's ultimately physical confrontation with Cambridge Police Department officers on April 13, the Harvard Black Law Students Association tweeted out that the incident was another example of police brutality.
"In an unusual move," the Cambridge PD responded:
According to CPD's tweet, officers arrived at the intersection of Massachusetts Avenue and Waterhouse at around 9:09 p.m. last night in response to "a call from a woman who stated a male had thrown his clothes in her face" and six other reports of a "completely naked" man.

The CPD wrote in its tweet that officers "located and verbally engaged" the student, who was standing on a traffic island in the middle of Mass. Ave. Officers learned from the student's acquaintances that he previously "took narcotics," which "could have a hallucinogenic effect when ingested," according to the tweet.

The officers and the student then engaged in a physical altercation, according to the tweet from the CPD.
The BLSA called the department's version of events "incorrect" and issued a set a demands which included the arresting officers be "investigated and held accountable." The BLSA also called upon Harvard to "offer 'support from the school, fellow students and our instructors' [and] to 'put pressure on the CPD' to comply with BLSA's demands."
It appears the BLSA got its wish. The Harvard Crimson reports no charges will be filed against Ohene, and there will be an independent review of the incident by Roderick L. Ireland, the first African-American appointed Chief Justice of the Massachusetts Supreme Judicial Court:
The student's attorneys—Winthrop Faculty Dean and Harvard Law School professor Ronald S. Sullivan Jr. and Law School professor Dehlia Umunna—wrote the student, his family, and his friends "applaud the decision" and that their client particularly wants to thank the Middlesex District Attorney's Office and the Cambridge Police Department for their "efforts and considerations." The two attorneys also wrote their client "looks forward to returning to his studies" and does not plan to discuss the arrest publicly.
The Middlesex District Attorney's office did not respond to a New Boston Post query as to just why charges against Ohene were dropped, referring NBP to the Cambridge Police press release.
The press release also offers no explanation.
Read the full Crimson and New Boston Post stories.
MORE: Black Harvard law prof urges students to not invent racism
MORE: Black pro-life speaker shouted down at Harvard Law event
IMAGE: UWW ResNET/Flickr
Like The College Fix on Facebook / Follow us on Twitter