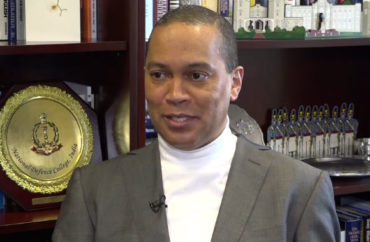 'One cannot reason with nihilists,' so send in the troops
Jason Hill legally immigrated to America from Jamaica with $120 in his pocket. He worked and went to school, both full time, graduating near the top of his class and earning a scholarship for a philosophy PhD.
And he's sick of the "genocidal warfare against black and brown bodies by other black and brown bodies" where he lives, Chicago.
The honors professor of philosophy at DePaul University called on President Trump in The Hill to "use your powers to suspend the dated Posse Comitatus Act" – or simply send in "the militia, the National Guard, the Navy or the Marines," which the law doesn't mention – to restore order in the Windy City.
Hill shares heartbreaking stories of the cruelty of life in Chicago, which stems from uninterrupted gang violence:
I am pained when my young student from the South Side tells me that he has to drop out of college and join a gang because that's the only way he won't get harassed or killed. I am angry when I hear of the young woman who cannot cross the street to catch the bus to get to her university because she has to make herself sexually available to gang members before she can "cross turf." …

In Chicago, some neighborhoods are overseen by gangs that ought to be viewed as operators of terror cells, nihilistic institutional organizations that invade the sphere of civilized life. These gangs have declared themselves above the law.

Our city is under siege. It is bleeding to death by thousands of tiny scratches. In this age of nihilism, the American Dream is being executed day by day by the genocidal warfare against black and brown bodies by other back and brown bodies. … One cannot reason with nihilists; one must eradicate the nihilists to protect the victims and inoculate the innocent.
Troops are the "insignia of urban civility and order," and sending them into Chicago will "save black and brown lives," Hill says.
The professor's forthcoming book We Have Overcome: An Immigrant's Letter to the American People will be published in July.
MORE: Hill challenges progressives' anti-American orthodoxy
IMAGE: Tea Partier/YouTube
Like The College Fix on Facebook / Follow us on Twitter