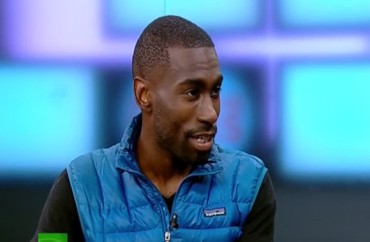 Black Lives Matter bigwig DeRay Mckesson landed a two-day guest lecture opportunity at Yale, and delivered such — on "leadership" — back on October 2 and 3 at the college's Divinity School.
He later spoke at the African-American house covering such topics as BLM's "relation to the Israeli-Palestinian conflict to current presidential candidates to the contact celebrities have had with the Black Lives Matter movement."
Mckesson highlighted the power Twitter and education "in advancing the cause of racial equality."
"Social media has become the space where we tell the truth," Mckesson said. "It not only makes people woke but allows people to stay woke."

"Twitter and the classroom are the last two fully democratic spaces in America," he said.

He added that teachers who work with young children need to be very conscious of how power is represented in the schoolbooks they use, noting that the history of protest in America is often "whitewashed" in schools, though the roots of protest predate whiteness itself.

Yale students in particular, he said, need to be proactive in expressing their ideas. He encouraged students to make the University work for them and not to be complacent about their learning.

"[Just] because you are at a good school doesn't mean you will get a good education," Mckesson said. "You have to work for that."
Wait, did he say "whitewashed"?? Doesn't he know that term is a no no?
RELATED: Conservative student at Yale called 'bigot,' pressured to leave campus by peers
Mckesson didn't directly address the controversy surrounding the name of Calhoun College; however, a student noted that "the only reason the issue has resurfaced is the Black Lives Matter movement."
According to Twitchy.com, one of Mckesson's discussion topics was "In Defense of Looting."
The course syllabus shows that featured readings included works by Ta-Nehisi Coates and Derrick Bell.
RELATED: Yale students choose history, tradition over political correctness
Like The College Fix on Facebook / Follow us on Twitter
IMAGE: YouTube screencap