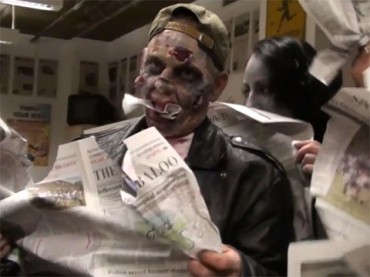 Our writer Bryan Stascavage chronicled the crazy week he's had at Wesleyan University, where his constructively critical op-ed about the Black Lives Matter movement made him the subject of online threats and in-person harangues.
The craziness is coming to the entire student newspaper now, as he mentioned.
The Wesleyan Argus reports that it's the subject of a boycott petition that was distributed at the student government meeting Sunday, and which as of Monday night had 147 signatures of students and faculty.
It's calling for a boycott of the Argus because the paper "has historically failed to be an inclusive representation of the voices of the student body," specifically neglecting "to provide a safe space for the voices of students of color" – without explaining what that means.
The petition states that the Argus is guilty of supporting "institutional racism" – again, no explanation – and it has a curious idea of what a "boycott" involves:
disposing of copies of The Argus on campus
As Stascavage wrote regarding his conversation with the editors after his column blew up, about half the print run of 1,000 copies of the Argus were stolen. Activists are doubling down, deciding that racial grievances justify petty theft against an organization that already only gets enough school funding for two paid positions.
Some of what they are asking for could be part of a reasonable discussion, if it weren't accompanied by vandalism and pressure to defund the entire newspaper. Per the Argus:
create work study/course credit positions

monthly report on allocation of funds and leadership structure

active recruitment and advertisement
And other demands are thinly veiled proposals to impose politically correct censorship on the paper and take away its editorial control:
a required once-per-semester Social Justice/Diversity training for all student publications

open space on the front page in the publication dedicated to marginalized groups/voices, specifying that if no submissions are received, The Argus will print a section labeled "for your voice."
That's tantamount to the fairness doctrine on steroids (look it up, kids), not requiring a balance of views but preferred views that the paper must publish to the exclusion of others.
Student government leaders aren't exactly giving a full-throated defense of the Argus. President Kate Cullen and Vice President Aidan Martinez wrote to the paper that they "stand in solidarity with the student of color community in their efforts to make their voices heard."
Co-editor in chief Rebecca Brill points out the irony in calling for more voices in the paper and then saying they can be censored if they are offensive:
"There's an important conversation going on right now about The Argus representing the voices of all students; it seems counterintuitive to censor the voice of a student expressing their views, offensive as they may be to some. We will continue to publish even if we are defunded. It's our responsibility to cover news on this campus and to represent our community."
Meanwhile, this effort is being mocked even in liberal quarters. The New York Observer opines:
Well, it'll make for a great anecdote in the next Atlantic cover story about overly sensitive millennials. …

That there is no right not to be offended may come as a surprise to some students who seem to confuse op-ed columns with a publication's editorial stance. …

Instead of mandating social justice and diversity training for all student publications, as the petition demands, perhaps the undergrads would be better served by a required class on freedom of the press.
Even Gawker, which thinks Bryan's op-ed was "stupid" and evidently didn't read it too closely, writes in a post titled "Liberal Wesleyan Students Fight to Ban the Free Press":
When someone writes something dumb you just write about how dumb it is on the internet, kids, that's how free speech works. Never stop talking.
Like The College Fix on Facebook / Follow us on Twitter
IMAGE: Student Press Law Center/YouTube screenshot