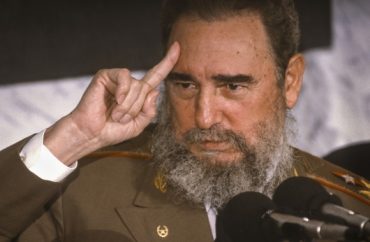 The Chicago affiliate of Black Lives Matter recently flew a bunch of students to the socialist utopia of Cuba so they could participate in the country's annual May Day festivities.
According to its Eventbrite page (on which it asks for donations), the "important monumental trip" took place "on the 50th anniversary of Che's assassination in Boliva [sic] by the CIA."
The description goes on to say
We are in a historical moment where international solidarity is crucial and young burgeoning activist [sic] need the opportunity to connect with people who have engaded [sic] in revolutionary struggle for over 50 plus years. This will be a hands on learning experiance [sic] for the travelers who will be able to work on agricultural projects, find out about community ran cooperatives, and free health clinics. The goal is to bring this information, experiences and skills back to Chicago to impliment [sic] in our communities. We are bringing families impacted by police violence and intracommunal violence with us on this trip.
The second half of our delegation is on the way to Cuba for May Day and the international solidarity brigade! ??✊?❤️? @BLMChiYouth pic.twitter.com/zUEPEhWwOf

— BLMChicago (@BLMChi) May 1, 2017
It's not clear if the trip was for college or high school students (or both), but there appears to be some fairly young people in the tweet above.
BLM-Chicago's Twitter feed had featured a link to this November 2016 missive praising long-time Cuban strongman Fidel Castro. Here's part of the introduction:
There is an overwhelming sense of loss, complicated by fear and anxiety. Although no leader is without their flaws, we must push back against the rhetoric of the right and come to the defense of El Comandante. And there are lessons that we must revisit and heed as we pick up the mantle in changing our world, as we aspire to build a world rooted in a vision of freedom and the peace that only comes with justice. It is the lessons that we take from Fidel.
Indeed — the first words that come to mind when Fidel's name is mentioned are "freedom" and "peace."
Chicago Cuba Coalition & #BlackLivesMatter heading to participate in the International Brigade & MayDay in Cuba ??! ❤️??✊?✊? pic.twitter.com/BtEiYSoINi

— BLMChicago (@BLMChi) April 23, 2017
BLM also should consider that the island isn't exactly a paragon of race relations despite its professed "full systemic equality."
It's difficult to decide which is more baffling — that BLM-Chicago truly believes Castro's Cuba to be a freedom and peace-loving Eden, or how such a trip pertains to the insanely high rate of killings in the city.
MORE: Wm. & Mary BLM activists enraged after president refuses demands
MORE: BLM at Cornell: Free trade and climate change = 'anti-black racism'
Like The College Fix on Facebook / Follow us on Twitter
IMAGE: Shutterstock