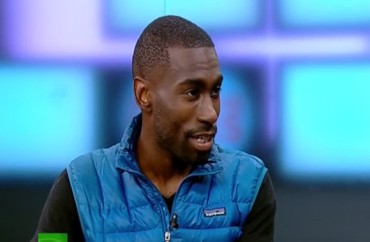 This past Saturday, Black Lives Matter bigwig DeRay Mckesson spoke at an event co-sponsored by the San Diego State School of Journalism and Media Studies.
No stranger to controversy or the limelight, Mckesson upped "the radical ante" toward the end of his talk when he said  "he cannot think of an instance where it would be acceptable for a police officer to kill a person."
Wow.
According to The Daily Aztec, Mckesson likened police shootings to filicide: "When is it okay for someone to kill their child? That is the only way I can think about this. Somebody's kid is being killed."
He also responded to the recent arrest of a (black) man at SDSU by campus police: "It is a reminder of the immense power the police have and that they abuse regularly without accountability. It is a disappointment that those police officers are still employed by the university."
He came to that conclusion merely by watching one video of the incident.
Mckesson discussed white privilege and the different ways people can use that privilege to make a difference.

"What white people can do is use their privilege to disrupt its privilege itself," he said. "They can talk about race in places and challenge systems in ways I can't."

Haley Welch, a member of the SDSU College Democrats and international business freshman, said as a white person she learned she needs to use her privilege to help people who weren't given as much.

MORE: BLM's Mckesson lands $165,000 gig with Baltimore schools

McKesson talked about protesting and organizing at its root and the next step in the Black Lives Matter movement.

"Protest is this idea of telling the truth in public," Mckesson said. "We have forced these conversations in public about the trauma and about the solutions. That's the power of what has happened."

Mckesson then shifted to the 2016 Presidential race and how people believe it is about choosing a lesser of two evils.

"You should have concerns. But this is not about the lesser of two evils. There is one evil," Mckesson said.
Mckesson's activism has paid off handsomely; earlier this year he became Baltimore Public Schools' interim chief human capital officer. His salary: $165,000 per year.
In addition, a month ago it was announced he was chosen as a University of Chicago Institute of Politics Fellow where he'll ""lead a seminar series focused on social justice, social media, and organizing […]"
MORE: BLM's Mckesson now a U. Chicago Institute of Politics Fellow
MORE: Black Lives Matter leader lives in home of rich University of Maryland law student
Like The College Fix on Facebook / Follow us on Twitter
IMAGE: YouTube