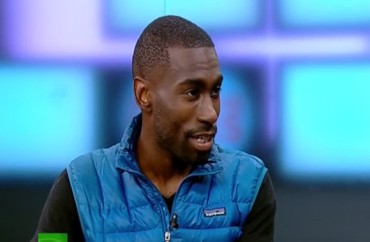 Perpetually blue vested Black Lives Matter activist — and failed Baltimore mayoral candidate — DeRay Mckesson will become Baltimore Public Schools' interim chief human capital officer under incoming schools CEO Sonja Santelises.
His starting salary: $165,000. He will oversee some 56 employees and a budget of $4 million.
Mckesson had previously served as a "strategist and special assistant in the human capital office" for two and a half years where he oversaw "key reforms."
"He has the depth of knowledge of the system, and he has proved that he can lift the work in a short amount of time," CEO Santelises said. "And he has proven his dedication to the children of Baltimore."
Mckesson catapulted onto the national media stage nearly two years ago when he took a leave of absence from his job as senior director of human capital in the Minneapolis Public Schools system to protest the shooting death of 18-year-old Michael Brown in Ferguson, Mo.

Mckesson founded and leads We the Protesters, a group that advocates policy changes against police violence.

McKesson returns to the district as Santelises' new administration prepares to open schools in August, a task that Santelises said was both challenging and crucial.

MORE: Black Lives Matter activist lands Yale guest lecture gig

"We have no time to waste. Every day in class is precious for our students, and every school must be ready to go when the opening bell rings," she said in a statement. "Mr. Mckesson has the hand-on experience, leadership skills, and energy to help us make that happen."

As special assistant to the director of human capital, Mckesson advised the district's top officials and helped manage the department's budget and day-to-day operations. As a strategist, he was instrumental in implementing the a pay-for-performance contract, building systems that linked evaluation data to compensation.

In Minneapolis, Mckesson helped restructure the district office, change the human capital office's recruitment and teacher selection process, and build professional development and orientation programs for new teachers. He served in that role for 15 months.
The 30-year-old Mckesson is a former New York City Teach For America math educator. Despite his mayoral candidacy "dwarfing the number of contributions from any other campaign," he finished sixth with a mere 3,445 votes. (The first and second place candidates, by comparison, received 48,665 and 46,219 votes respectively.)
In October of last year, Mckesson got a two-day guest lecture gig at Yale's Divinity School where he "highlighted the power Twitter and education 'in advancing the cause of racial equality.'"
MORE: Black Baltimore HS students say dress code is 'forced assimilation'
MORE: The most daft professorial quotes, theories about the Baltimore riots
Like The College Fix on Facebook / Follow us on Twitter
IMAGE: YouTube