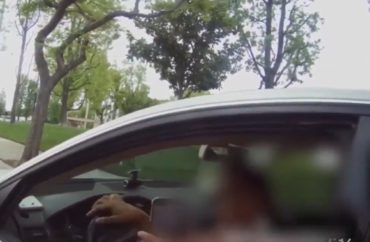 After he pulled her over for a cellphone violation
A yet-to-be identified Los Angeles-area educator can be seen on a bodycam calling a Hispanic police officer a "murderer" and "racist" during a recent traffic stop.
"You're always gonna be a Mexican, you'll never be white, you know that?" the woman in the car said. Fox News reporter Bill Melugin obtained the footage from the Los Angeles County sheriff deputy's personal body camera.
Melugin told Tucker Carlson that he wanted to wait until she had a chance to respond to his media inquiry before identifying her. The law enforcement officer is also not named.
"We are not providing the name at this time," Deputy Trina Schrader told The College Fix via email on May 4. The Fix asked for the name of the woman and also provided a name floated on the Internet and asked if that name was correct.
"You're a murderer," the woman said, when pulled over for being on her phone while driving.
"You're a murderer," she said again before she said the officer is "harassing" her.
NEW: "You're always gonna be a Mexican, you'll never be white, you know that?"
A Latino LASD deputy sent me his bodycam video of a woman claiming to be a teacher launching into a racist tirade against him when he pulled her over in San Dimas. She repeatedly calls him a murderer. pic.twitter.com/Cc8jSVenCQ

— Bill Melugin (@BillFOXLA) May 3, 2021
"You scared me and made me you think you were going to murder me," the woman said before mentioning that she is "legal" and a "teacher."
"It's not just a feeling," the teacher, who Fox News said is also reportedly a professor at a nearby community college, said when the officer apologized that she felt he was a murderer.
"You're a murderer," the teacher said three more times. "You're threatening to kill me and my son," she said.
A supervisor with the LA Sheriff's office told the motorist that she was only being cited for using her phone while driving. "For him being a Mexican racist… here you go Mexican racist."
"You're always going to be a Mexican…you'll never be white, which is what you really want to be."
"She claims to be a teacher. I'm not so sure where she is teaching," LA County Sheriff Alex Villanueva told Fox News. "[B]ut if she represents her profession, is that an indictment on her profession and the caliber of people?"
"The department also said that the woman has a history of making false claims against deputies," Fox News reported. She filed a complaint against the deputy soon after she received the ticket.
Los Angeles Southwest Community College said the woman in question has not worked there since 2017.
An individual, who was the subject of a FOX News media report last night, May 3, was identified as possibly teaching at Los Angeles Southwest College. This individual has not been employed at the college since 2017.

— #lascALLin (@LASCCampus) May 4, 2021
"An individual, who was the subject of a FOX News media report last night, May 3, was identified as possibly teaching at Los Angeles Southwest College," the college's account tweeted. "This individual has not been employed at the college since 2017."
MORE: Cypress College professor berates student who called police 'heroes'
IMAGE: Bill Melugin/Twitter
Like The College Fix on Facebook / Follow us on Twitter