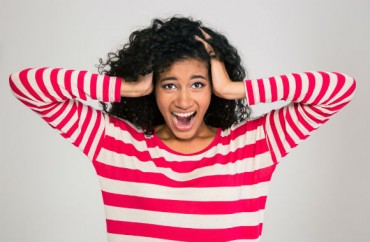 Writing in Madame Noire, Danielle Elaine relates the story of how her daughter's teacher had way overstepped the boundaries of … racial good taste after she had done the little girl's hair in class.
"One day, after a fresh hair wash," she says, "we were running slightly behind to school and I decided–against my better judgment–to let my daughter go to school with a headband and her curls out.
"[…] like every day I went to pick up my daughter from her school playground. As she ran toward me, all I could do was mouth to myself was, WTF!? Seeing my reaction her teacher scurred [sic] behind her, quickly offering an exonerating explanation as to why my daughter didn't look the way she did only a few hours earlier. 'I did her hair, I hope you don't mind?! She said she was hot.'"
Yes, the girl had said she was hot, and the teacher — like any well-trained educator and good, caring person — sought to rectify the situation.
What the teacher was not aware of is the seeming visceral Caucasian desire to play with black hair, and the (racial) conventions against it.
"While I'm 100 percent sure the teacher had no ill intentions when she decided to do my childs [sic] hair, but more so just wanted to get her hands in some Black hair. Against my better judgment, I assumed the unspoken rule about not touching Black hair was well known."
After about 30 minutes to an hour, I called the school and spoke with the director and asked that Lyric's hair not be touched by anyone, at all, for any reason. She assured me she would talk to the teachers, but I could tell she really didn't care. For days I debated with my cousin, a former daycare teacher about the violation, boundary infringement, and the subliminal message being taught to my daughter. My cousin argued the teacher had no ill intentions toward my child, and that she thought she was doing a good thing. She assured me her actions meant that Lyric was a favorite in the school, and now that I have made this an issue they will probably treat her differently now. …

MORE: Missouri white students told not to take part in Ferguson 'die-in' demonstration

Needless to say, no matter what the circumstances may be, no matter how tired I am, that hair gets braided down daily! I refuse to allow my child to be mislead into believing her beauty, and worth are defined by what pleases the pale faces of the world. I am a patron of the facility not for beauty treatments, but to first educate, and second care for my child. Unfortunately, I have stigmatized myself as "that mom", and prayerfully my daughter doesn't suffer of any ill treatment because of this.
Elaine says that if the teacher was black, she wouldn't have made a stink because "that would of been a sister looking out, a homegirl hook up because of the unspoken understanding all Black people share."
You can call her view "biased, ignorant" and "racist," but "but because of the history of the Black body, in relation to White people, (ownership, and exhibition)," she says, she will never approve of a white person touching her daughter's hair.
Perhaps she should seek out a school staffed solely by African-Americans so as to make certain a (white) teacher wiping her daughter's nose or tying her shoe isn't … "misinterpreted."
MORE: Prof: 'There are no good white people, only less bad white people'
MORE: What I learned in Comparative Politics: white people exploit all others
Like The College Fix on Facebook / Follow us on Twitter
IMAGE: Dean Drobot/Shutterstock