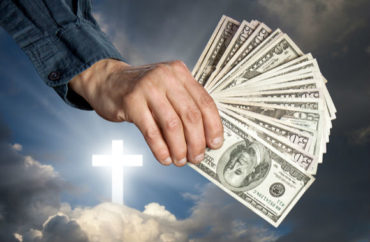 A black organization from the Princeton Theological Seminary is demanding funds for slavery reparations from a portion of the university's endowment.
The Association of Black Seminarians wants Princeton to allocate 15 percent of the endowment used for operating expenses "to fund tuition grants for black students," according to The Daily Princetonian. This would amount to approximately $5.3 million per year.
The ABS petition, which has a bit over half of its 1,000 signature goal at press time, also calls for
–Ten full tuition, fees, room and board grants for admitted Liberian students, in light of this institution's documented complicity in the creation of that nation and its ongoing exploitation by American interests

–Ten full tuition, fees, room and board grants for admitted students from other West African countries from the Senegal to the Congo, the original lands of those enslaved

–Student loan forgiveness for all African American alumni (not just Presbyterians)

–Tuition grants for all admitted Black ThM students

–An endowed Black Church Studies (BCS) program
With regards to the last item, the ABS says the program should include four specific full-time employees: a tenured chairperson, executive director, executive assistant, and curator of a new Black Church Studies Center.
The petition uses a quote from the Book of Leviticus to make its case: "and I acted with hostility toward them and brought them into the land of their enemies — and when their uncircumcised hearts are humbled and they make amends for their iniquity [of their ancestors] …"
The 2018 report leading to this petition was first launched by seminary president M. Craig Barnes in spring 2016. Barnes commissioned a committee of faculty and administrators to research several topics, including the seminary founders' ties to slavery, economic sources that financed seminary facilities, and student demographics.

The committee found that although Ashbel Green, the first president of the Seminary Board of Directors, espoused anti-slavery views, he did own slaves. He also served as president of Princeton University, then called the College of New Jersey, from 1812 to 1822.

Three of the seminary's first professors also employed slave labor.

The committee discovered that 15 percent of the seminary's total revenue in the antebellum era consisted of contributions from slave owners and the interest from these contributions. This discovery led to the ABS's call for the seminary to set aside that same percentage for reparations.
The petition concludes that reparations would "move American theological education away from its imperialistic, Eurocentric impulses towards a holistic, globally responsible posture."
MORE: Georgetown may pay reparations for slavery with new student fee
MORE: Activists demand slavery reparations for black U. Chicago students
IMAGE: Drop of Light / Shutterstock.com
Like The College Fix on Facebook / Follow us on Twitter