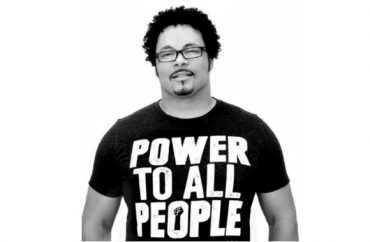 African-American pro-life activist Ryan Bomberger was assailed with a parade of profanity from student audience members during a question and answer session after his recent talk at Harvard Law School about abortion in the black community.
Originally scheduled to last 10 to 15 minutes following the "Abortion in Black Communities" event, the Q&A instead devolved into about an hour of students shouting insults at Bomberger, he said in a recent interview with The College Fix.
"Most of the time I couldn't respond to everything going on," Bomberger told The College Fix via email. "Students cursed and yelled at me repeatedly, especially an LGBT activist who called me a 'f*cking piece of sh*t'. Some students called me (and I'm trying not to laugh) a 'racist' and stated that 'I hate black people.'"
According to Bomberger, "many students didn't wait to be called on and just shouted and stayed on their soapboxes for minutes at a time. Some stormed out calling my irrefutable facts 'propaganda.' I remained calm, answering every question with easily verifiable facts. But they didn't want answers. They wanted to lecture me."
Bomberger's apparent sin in the eyes of his protestors? Publicizing the fact that more black babies are aborted than born alive in New York City — the birthplace of Planned Parenthood.
"The goal was to introduce truth into fact-free 'safe spaces,'" Bomberger told The Fix this month about the April 19 event. "I had hoped that students would leave disturbed about the social injustice of abortion. I challenged them to investigate the thoroughly documented evidence I presented and come to fully informed decisions themselves."
Bomberger, founder of the Radiance Foundation — a nonprofit that aims to help people "understand and embrace their God-given purpose" — told The Fix he has been involved with the pro-life movement since birth.
Yes, birth.
"I never knew then, but being conceived in rape would translate into a life advocating for the most vulnerable among us," Bomberger said. "Every human life has purpose, regardless of circumstances of conception, planned or unplanned, able or disabled. The abortion industry is predicated on the lie that some humans are more equal than others."
RELATED: ABORTION — Black Genocide Fulfills Racists' Goals
Before founding the Radiance Foundation with his wife in 2009, Bomberger acted as a speaker, volunteer and advocate of pregnancy care centers and adoption centers. He also created the Black History Month abortion awareness initiative ad campaign TooManyAborted.com.
During the event co-sponsored by Law Students for Life and the Harvard Black Law Students Association, Bomberger spoke opposite Professor Diane Rosenfeld, lecturer and director of the Gender Violence Program at Harvard Law School.
Professor Rosenfeld concentrated her talk on a hypothetical example of rape inspired from Bomberger's personal testimonial as a child conceived from such an act.
RELATED: Dr. Alveda King Tells Students of Modern Day Black Genocide
"What happens if one of his [the rapist's] victims, after she got raped, got pregnant?" Ms. Rosenfeld is quoted as saying at the event. "First, there's the lack of choice of who has access to your body — and then what to do about that horrible consequence."
In addition to essentially implying that Bomberger himself is nothing but a "horrible consequence," Rosenfeld also "condescendingly dismissed my story of being conceived in rape and having a birth mother who courageously chose life and adoption as 'cute'," Bomberger told The Fix via email.
"Professor Rosenfeld wasn't once disrespected by any pro-life student," Bomberger continued, "but the entirety of the forum was an exercise in blatant disrespect for me and a heavily substantiated pro-life ideology."
Equally as uniformed as the shouting students, Rosenfeld "couldn't tell me which 'medical services' Planned Parenthood actually provides when asked several times," Bomberger said.
Of the nearly 30 questions asked, only one was voiced from a pro-life perspective, according to Bomberger. This individual, a worker for the local pregnancy care center and not a student at Harvard, was accused of being a "white privilege student" by an African-American Harvard student, Bomberger told The Fix.
RELATED: VIDEO — Black students angrily protest conservative peers' pro-life #BlackLivesMatter campaign
Ultimately frustrated with his reception at Harvard Law School, Bomberger stated that he has "come to expect this on a lot of campuses from the 'pro-choice' side. It's much harder being 'pro-life.' We're the ones who do the research, who present things in context, and have both the emotional personal stories and the irrefutable evidence."
"Much of academia is ironically, and dangerously, intolerant," Bomberger said. "If 'education is power,' miseducation is just as, if not more, powerful. Universities have become bastions of singular distorted perspectives and efforts to force assimilation. Fact have no place in spaces reserved solely for feelings."
"The insecurity of college administrators and some of today's students manifests itself in sovereign little limited-speech nations that are in direct contrast with the land of the free and home of the brave which birthed them. Too many forget that we have a free speech zone, and it spans from coast to coast across this great country."
RELATED: Law school deans chastise student for column saying abortion No. 1 killer of black Americans
Like The College Fix on Facebook / Follow us on Twitter