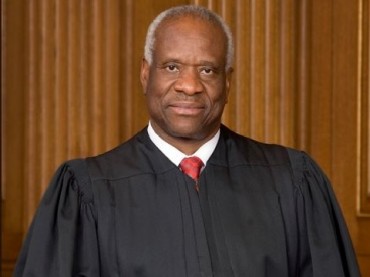 In guest lecture, professor claims America should have heeded Anita Hill; talk also chastises Bill Cosby, suggests many black targets of police shootings result of racism
Rutgers University assistant professor Brittney Cooper on Tuesday gave a guest lecture at the University of Wisconsin titled "The End of Respectability: Black Feminism and Ratchet Politics" during which she said Supreme Court Justice Clarence Thomas has actively hurt civil rights in America.
Saying more than 90 percent of black people supported Justice Thomas when Anita Hill accused him of sexual harassment in the 1980s, Cooper opined that was a big mistake.
"There's a cautionary tale there, that if you don't listen to the women, none of us do well," Cooper told the audience. "Real talk. He has been the deciding vote to roll back every piece of civil rights legislation that we have had. There are material costs to our investment in patriarch."
It was one of many points the Africana and women and gender studies professor at Rutgers told the audience during her one-hour talk to a room full of 75 students and scholars in Madison.
The talk came as the Madison community is still reeling from the police officer shooting-death of Tony Robinson, an unarmed black teenager, over the weekend. The incident has since prompted protests and chants of "no justice, no peace" on campus and City Hall as residents voice frustration.
With that, the room had a sense of sadness in the air while Cooper talked of race relations. Cooper said to the audience that "racism is completely unreasonable in its magnitude, in its severity, in its intensity, in its persistence. It's unreasonable to kill Tony Robinson."
Applaud broke out from the crowd as Professor Cooper seemed to make the claim that Robinson was killed due to racism, and not because he allegedly violently assaulted a police officer.
She also said it was unreasonable for the Atlanta police to kill a black man on Tuesday afternoon, and once again drew the conclusion the shooting was race-related, even though the investigation was literally hours old at the time.
"The other thing that's problematic about the politics of respectability is that it absolves the state of any overt responsibility [to eliminate] racism," Cooper said.
The structure of the black family was also something Professor Cooper touched on. She talked about shows like "The Cosby Show," saying they were an example of how – if people did the right things in life, such as got married, had kids, and worked hard – they could be successful.
However, Professor Cooper suggest this wasn't how society actually works. She cited Beyoncé as an example, arguing the music icon "got married, had a kid, grew up in a two parent home, and people are still telling her she's wrong."
The scholar also took this opportunity to discuss the sexual assault allegations against Bill Cosby saying, "Cosby disrespects the legacy of all the black males lynched because of false accusations from white women."
She was also critical of Cosby's infamous comments about the shortfalls within some black communities, and claimed: "Bill Cosby has gone around the country lecturing to poor black people about our failure to uphold our end of the bargain. The idea that being respectable citizens with good families would pave the path to freedom has proved to be simply untrue. Since 'The Cosby Show' came on the air in 1984 and 2007 we have watched the wealth gap grow, so black people have lost wealth in that time period."
The stereotyping of clothing worn by black males was also briefly discussed. She claimed that graduation gowns worn don't stop bullets like they didn't for Mike Brown in Ferguson, Missouri.
Professor Cooper is scheduled to give another speech on the campus of UW-Madison soon to discuss "Making Black Lives Matter in the 21st Century." The talks are sponsored by the Havens Center and the UW Gender and Women's Studies Program.
College Fix reporter David Hookstead is a student at the University of Wisconsin Madison.
Like The College Fix on Facebook / Follow us on Twitter