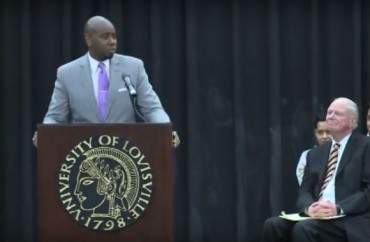 The brouhaha started when the president of the University of Louisville, James Ramsey, along with his wife and some staffers, were photographed wearing sombreros and fake mustaches during a Halloween event.
"We made a mistake and are very sorry," Ramsey's chief of staff had said in a statement.
Of course.
As part of the president's contrition, he agreed to "take action" to improve the college's atmosphere of diversity, which included measures like recruiting more Hispanics for faculty, staff and administrative positions, putting more effort into Hispanic scholarships and financial aid, and offering more support for programs relating to "underrepresented" faculty, staff and students.
The university also put together the event "University of Louisville Campus Conversation on Inclusiveness, Diversity, and the Future of the University," which took place last Friday.
One of the speakers was Dr. Ricky Jones, chairman of the Pan African Studies Department. Jones made some rather … interesting comments, especially considering the topic of the event: celebrating and valuing inclusiveness and diversity.
Note that the audience started clapping here:
We need to get beyond the point, our white brothers and sisters need to get beyond the point, where they are just hiring and hanging out with safe black folks, safe Hispanic folks. Folks who are so interested in getting along that their culture gets tossed to the wayside. And they will be the first to criticize their own people. And condemn them to endear themselves to the folks they think are their friends, because they look a little bit different. You are tokens! You are no good to any of us. You take us down dangerous paths. You are no good for diversity. You are no good for progress.
Jones added: "All this colorblind foolishness is just that — foolishness. I don't trust anybody who says 'I don't see race.' 'Cause it's a lie!"
Those on the right often say that the academic notion of "diversity" pertains only to the hue of one's skin. Dr. Jones' comments appear to confirm just that.
Like The College Fix on Facebook / Follow us on Twitter
IMAGE: Mike Peak/YouTube