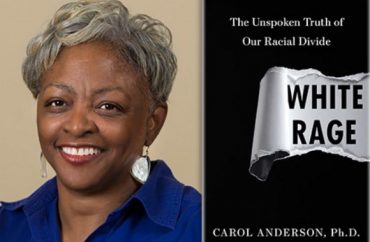 "White Rage" is the force behind the many struggles faced by the black community today, according to a newly released book written by an African-American Studies Professor at Emory University.
"White Rage: The Unspoken Truth of Our Racial Divide," penned by Emory historian Dr. Carol Anderson, argues that "every time African Americans have made advances towards full participation in our democracy, white reaction has fueled a deliberate and relentless rollback of their gains," the book's online description states.
"White rage is subtle as policy makers and a series of courts systematically undercut advancement of African Americans, and in doing so wreak major havoc on American democracy," Anderson told Emory News Center in an extensive interview to coincide with the book's release.
Anderson did not respond to an interview request from The College Fix on her new book, published May 31.
Anderson points to statistics like the high percentages of black incarceration, the lower percentage of blacks with government I.D.s, and the lower average income for black Americans as evidence white elites and politicians are purposely halting black advancement.
Specific examples of white rage, according to the professor, include the 2013 U.S. Supreme Court decision to allow states to pass voter identification laws, and states' subsequent decisions to pass such laws, calling it an attempt "to clamp down on the black vote," she told Emory News Center.
MORE: Princeton professor arrested for outstanding warrant; blames racism
She also stated President Ronald Reagan was a "devastation" to the United States, and accused his administration of purposely cutting student aid to target black families.
"We came from a nation that valued chattel slavery, where 80 percent of the nation's GNP was tied up in owning human beings," the professor told Emory News.
"The idea of America is so powerful," she continued. "It is so strong that you consistently have large numbers who are fighting to reach that goal [of equality]. That's why white rage has to always morph into something else, because once it's revealed, its policy antics are no longer tolerated or accepted."
She added some white people are "fighting hard, putting their lives, their reputations and their money on the line for a better democracy."
Anderson's new book was inspired by her August 2014 op-ed in The Washington Post in the wake of the Ferguson riots headlined "Ferguson isn't about black rage against cops. It's white rage against progress."
"White rage recurs in American history. It exploded after the Civil War, erupted again to undermine the Supreme Court's Brown v. Board of Education decision and took on its latest incarnation with Barack Obama's ascent to the White House. For every action of African American advancement, there's a reaction, a backlash," her column stated.
In her interview with Emory News, Anderson also made the claim American police departments routinely use black Americans as a "revenue generating source." She did not delve into law enforcement officers, both white and black, who have given their lives to protect minority precincts.
Public policies "have created an environment where the police are using African Americans as a revenue-generating source, where the school systems for over a decade have been on accreditation probation, and the policymakers seem alright with that," she told Emory News.
"In 'White Rage,'" she continued, "… when you pull these events together, all of a sudden you're saying, 'Oh my God, that's it; that's white rage.' Think about it: How is it that we could be so viscerally opposed to children getting an education?"
Courses Anderson has recently taught at Emory include "War Crimes and Genocide," "Black Athletes in American Society," and "The Civil Rights Movement."
MORE: Black people have bad health because of racism, psychologist says
Like The College Fix on Facebook / Follow us on Twitter
IMAGE: Internet screenshot