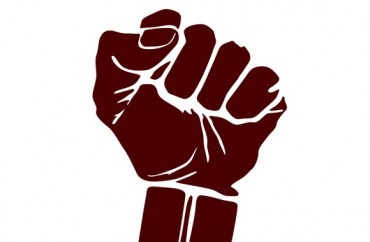 Over 200 black professors have signed a "love letter" to the Bethune-Cookman University graduates who booed Secretary of Education Betsy DeVos* during her commencement speech at the school last week.
The College Fix previously reported that one professor alleged DeVos is representative of "white power" and added that commencements are "not a time to stoke controversy or debate." (Right — tell that to Ken Burns, Bryan Stevenson, and Mumia Abu-Jamal.)
North Carolina Central University's Yaba Blay, a signatory to the letter (and who apparently was the catalyst behind it), echoed those sentiments: "I wondered if they knew how proud we ALL are of them, beyond retweets and shares. It's important that they know."
The world watched you protest the speaker you never should have had. We cheered as we saw so many of you refuse to acquiesce in the face of threats and calls for complicity. Your actions fit within a long tradition of Black people fighting back against those who attack our institutions and our very lives with their anti-Black policies and anglo-normative practices. Betsy DeVos' commitment to dismantling public education and her egregious framing of historically Black colleges and universities as "pioneers" in school choice are just two examples of why she should never have been invited to speak at an event celebrating Black excellence.

We shared your outrage when it was announced that DeVos would serve as your commencement speaker and receive an honorary degree. As your administration hid behind the rhetoric of "learning from people with divergent perspectives," current students objected. Alumni petitioned. We watched from a distance wondering how but knowing why this moment was taken from honoring you.

But then, you turned it around, figuratively and literally. We beamed with joy as we watched videos and read tweets of how you took your graduation back to honor yourselves. To honor your founder. To honor our ancestors. To honor us all.
Some of the names attached to the letter may be familiar to Fix readers. For example, Princeton's Imani Perry once falsely accused police officers of racist treatment after being pulled over for "driving 20 or more miles over the speed limit while her license was suspended" … along with having outstanding warrants.
Rutgers' Brittney Cooper said that Jesus Christ was "potentially queer" or "a priest married to a prostitute," and called the Baltimore riots "acts of justifiable rage and rebellion."
Probably the most famous signatory is frequent cable news pundit Marc Lamont Hill, who teaches at Temple University. He referred to the Baltimore Police Department as an "occupying force in the hood," and just prior to Donald Trump's inauguration said that the African-Americans who had met with the then-president-elect were "mediocre Negroes." In addition, Hill remains steadfast in his belief that convicted cop killer Mumia Abu-Jamal is innocent.
MORE: U. Maryland professor: Betsy DeVos is representative of 'white power'
MORE: Thanks, progressives: Ed. Secretary DeVos requires costly security measures
Like The College Fix on Facebook / Follow us on Twitter
IMAGE: Shutterstock