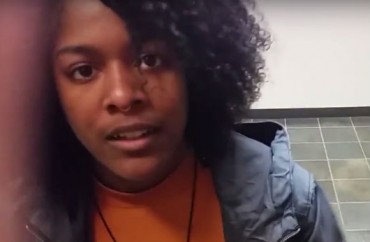 He claims she threatened to mutilate his hair, too
San Francisco State University said it's investigating an altercation captured on video Monday that appears to show a black female physically attacking a white male because of his dreadlocks.
Though the school didn't identify the students in its Tuesday statement, it said neither is an employee.
That appears to be in response to early-morning claims on Twitter that the black woman is Bonita Tindle, whose LinkedIn page says she's an intern for both the campus Women's Center and Associated Students Inc., the student government.
The 46-second video uploaded Monday by Nicholas Silvera, which also claims the black woman is a "campus employee," shows her interrogating and even grabbing a white man with dreadlocks, and later hitting another man who was filming the incident.
@SFSU IDK if you are aware, but an employee of yours, Bonita Tindle recently was on camera assaulting a student based on his race.

— Jimmy Russells (@JimmyRussells5) March 29, 2016
Already shared widely on Reddit and 4chan by Tuesday morning, the video features the woman and a black male standing with her repeatedly accusing the white student of cultural appropriation for having dreadlocks.
The white student later identified himself as Cory "Soulr" Goldstein, a local DJ, and laid out his allegations against the woman in a series of comments on his Facebook post.
The video begins with the white student immersed in an unwanted conversation with two black students about his choice of dreadlocks as a hairstyle.
"You're saying that I can't have a hairstyle because of your culture," asks Goldstein.
"Yeah," responds the woman, telling Goldstein that the style is a uniquely African tradition.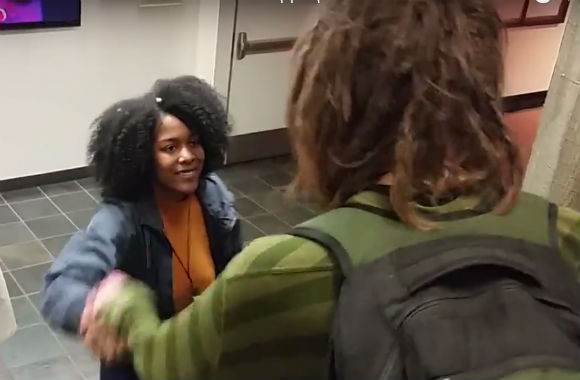 "'Cause it is my culture," the woman responds when asked why it offends her. "Do you know what locks mean?"
"Do you know how it was in Egyptian culture? Are you Egyptian," Goldstein asks the woman incredulously. "Nah, brah, you're not."
Goldstein tries to get past her but the woman catches his sleeve and drags him back.
"You put your hands on me, you'll learn," says the woman, apparently suggesting that she could accuse of him of assault.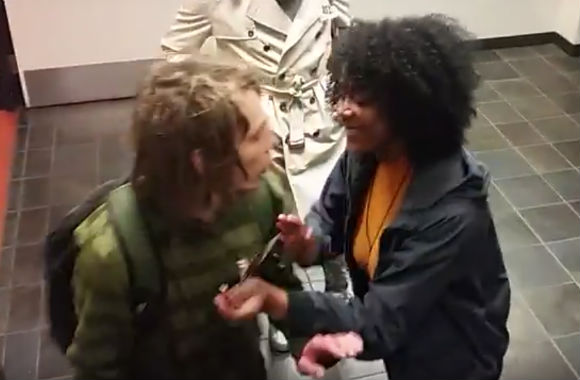 "You'll learn what?" says Goldstein. "Whether you're going to [inaudible] what kind of hair I have? That's no reason, yo. I don't need your disrespect. I don't need your disrespect."
When he leaves the conversation again, the woman turns on the bystander filming the argument.
"Come back- Why are you filming this?" the woman asks the cameraman.
When the cameraman responds that he is filming "for everyone's safety," the woman abruptly grabs for his camera, where the footage stops.
Even 'Chocolate Rain' maker is throwing shade at the woman
Goldstein wrote on Facebook that he has filed a police report with campus police, but isn't pursuing criminal charges. He said the altercation extended beyond the 46-second clip posted on YouTube, with the woman threatening to "cut my locks off too among other verbal assaults."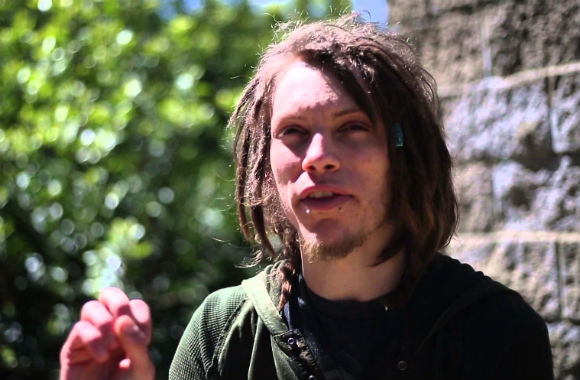 "I never feared for my safety, I just don't like being grabbed and pushed," wrote Goldstein in a Facebook comment later on Monday.
The video was so compelling that Tay Zonday, the YouTube personality and maker of the early viral video "Chocolate Rain," weighed in with his criticism of the woman.
The university said in its Tuesday statement that while it "promotes the rights of the campus community to engage in free speech," it does "not condone behavior that impedes the safety or well-being of others."
SFSU will "promptly and thoroughly investigate this incident through applicable University channels, including our campus student conduct procedures," it said.
Some users on Twitter sounded their disbelief in the woman's actions.
@SFSU Please rectify the situation, as a current student, I feel very unsafe on campus now, knowing employees can act like this.

— Jimmy Russells (@JimmyRussells5) March 29, 2016
Somebody put their hands on someone else because they were wearing "their hairstyle"

End of necessary analysis

— Vernaculis (@Vernaculis) March 29, 2016
Goldstein and Tindle have not responded to requests for comment from The College Fix.
Like The College Fix on Facebook / Follow us on Twitter
IMAGES: Nicholas Silvera/YouTube